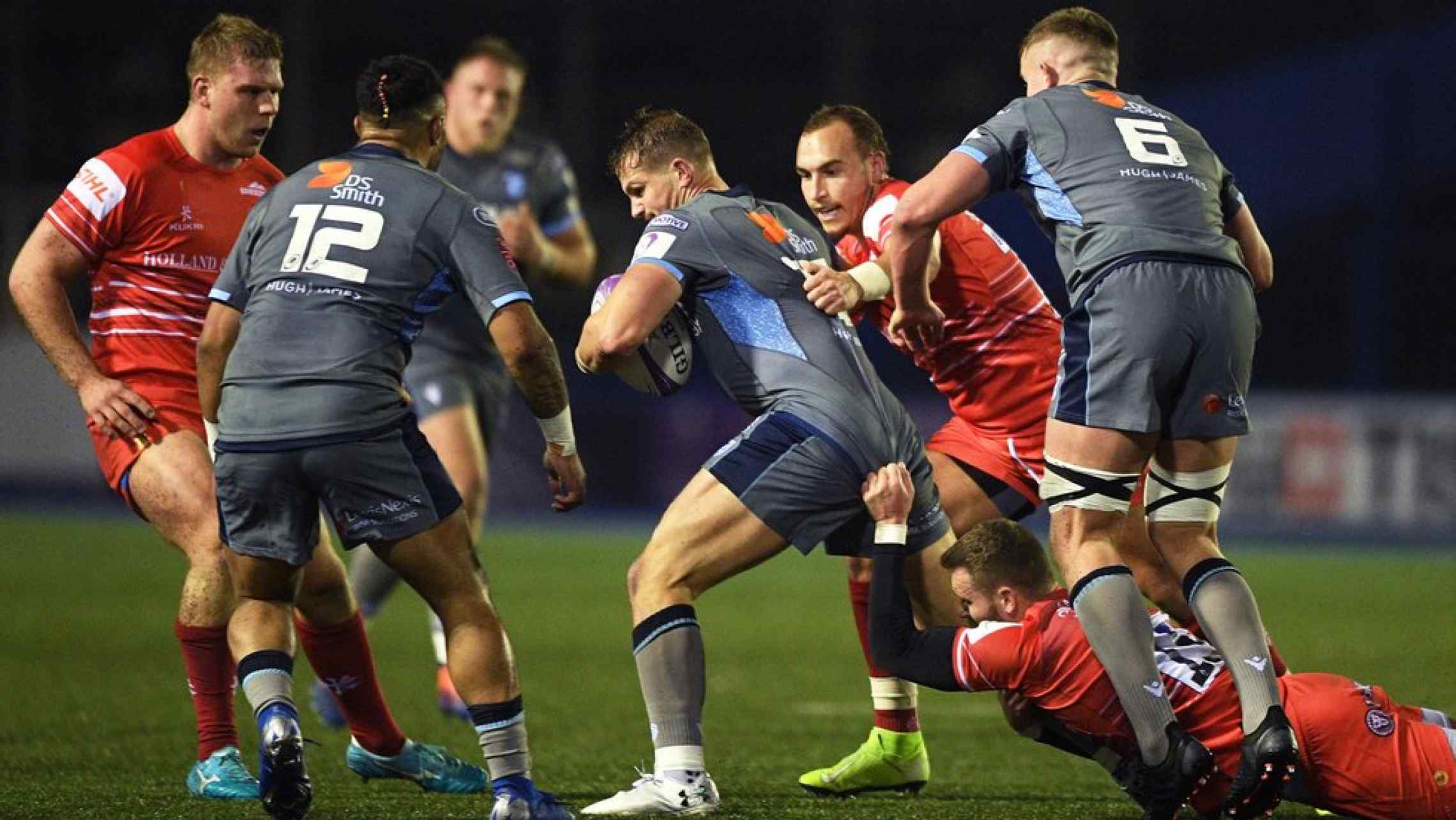 Cardiff Blues suffered an embarrassing home defeat to a significantly weakened Leicester Tigers side at the Arms Park on Saturday night.
After resting a number of players in the opening European Challenge Cup win over Calvisano, John Mulvihill recalled the likes of Corey Domachowski, Liam Belcher, Scott Andrews, Will Boyde, Nick Williams, Lloyd Williams and Aled Summerhill to the starting XV, while Owen Lane and Hallam Amos returned from Wales duty.
The game started in a bright fashion for the hosts, with a Nick Williams half-break and offload sending Lloyd Williams in the Leicester 22, before a deliberate knock on allowed Jarrod Evans to open the scoring off the tee.
Cardiff Blues dominated possession and territory for the next 15 minutes but the attack, not for the first time this season, was too often lateral and lack a cutting edge. This led to audacious miss-passes or unwise solo carries being used in an attempt to fashion a line break, that did not come off.
However, as the game moved to the mid-point of the first half our best worked attack of the game saw us move up from our own 22 to the edge of Leicester's 22, with Owen Lane, Aled Summerhill and Willis Halaholo carrying well before the visitors were forced to infringe on the floor and Jarrod added three more points.
Unfortunately as the game reached the half-hour point, Cardiff Blues' failure to get more points on the board was punished when Guy Thompson offloaded for Ben White and the full-back drew the last defender to send Jordan Coughlan over for the try.
The home side needed a reply before half-time and got it in style as a scrum won against the head in Leicester's 22 gave us great field position before a pinpoint Jason Tovey cross kick found Aled Summerhill wide open on the left to score.
Tom Hardwick kicked a penalty after a tackle off the ball to cut the lead late in the first half, but Cardiff Blues went in 11-8 to the good as half-time offered a chance to regroup.
That offer was not taken though, as the second 40 was one of the poorest Cardiff Blues performances that the Arms Park has seen in some time, with 72% possession and 69% territory churning out no points.
Aside from a brilliant piece of skill which saw Hallam Amos volley the ball ahead, and Aled Summerhill being denied a try by an excellent covering tackle from Sam Costelow, try scoring chances were few and far between.
A lack of a pick-and-go game starved the backs of space, even with the 10/12 playmaking axis of Jason Tovey and Jarrod Evans returning when Willis Halaholo limped off, while individual errors cost us dearly in the hunt for a breakthrough.
Leicester, who picked a noticeably weakened side for this game, did not offer much threat, and although their defence was well organised it was rarely asked any questions that tested it's shape or decision making.
They took their chances when offered though, and although there were question marks over two late penalties and there probably should have been a card for Harry Wells for a judo throw on Lloyd Williams, it is difficult to begrudge them their win purely on the poor performance of Cardiff Blues.
In the end the game was decided when the home side attempted to run the ball out from deep within our own 22 as the clock turned red. With the scores at 11-11 there were plenty of supporters happy to take the draw, but we went for the jugular and it didn't pay off when Leicester won the turnover.
Tom Hardwick stepped up and sent the ball through the uprights to claim an 11-14 victory, with Cardiff Blues dropping to second in the pool table and returning to Guinness Pro14 action next week on the back of a disappointing loss without the international players selected to play for Wales against the Barbarians.
Tough times lay in wait.
Dan Pearce, 25th Nov 2019
Get Involved
If you liked this piece and want to contribute to the independent voice of Cardiff rugby then you can join us here. As a member led organisation we want to hear from you about the issues you want us to raise.
Comments
Probably the worst and most inept performance I have ever witnessed by us at home. When Nick Williams did not reappear after the break, I feared the worst, because without him there are no leaders in this pack. As supporters we need to have the list of injured and unavailable players put on the website like it used to be. We have gone backwards this year and Jarrod seems unable to control a game and we need to play Tovey at 10 I think to lead us out of this mess. I actually wasn't disappointed we lost, as we didn't deserve to win. The ref. was poor, but so were we.
Leave a Comment