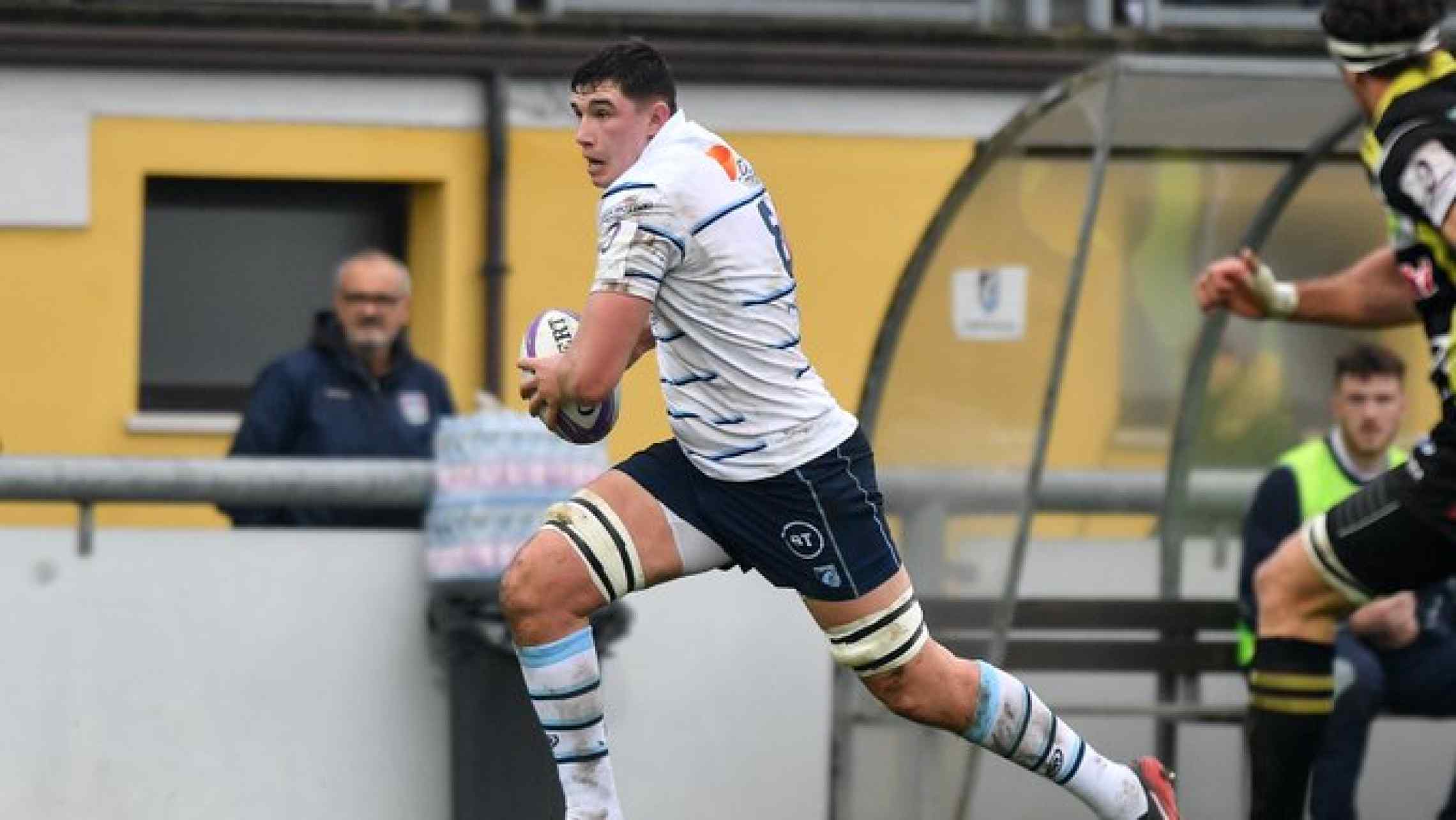 Cardiff Blues got the 2019/20 European Challenge Cup campaign off to a winning start but had to work hard for it against a resilient Calvisano side in Northern Italy.
John Mulvihill had taken the opportunity to rest a number of starters from the last few weeks, with a new front row, a first start for James Botham, and a number of young players on the bench in the shape of James Ratti, Alun Lawrence and Ben Thomas.
However it was two players who have been at the centre of much good work from Cardiff Blues over the last few weeks that got the scoreboard up and moving as Jarrod Evans produced a perfect chip kick that sat up for Matthew Morgan to gather and score under the posts.
Evans converted and and was back on the tee a few minutes later after Calvisano were caught offside following a marauding break down the left from Macauley Cook.
After that though the hosts started to get a foothold in the game, first kicking an offside penalty of their own through Paolo Pescetto, before a well-worked multi-phase attack ended with Samuela Vunisa offloading for Giacomo di Santis scoring in the corner which Pescetto converted.
The young Cardiff Blues players kept stepping up though, with Keiron Assiratti winning a penalty at the scrum before James Botham was strong over the ball and allowed Evans to kick us into the opposition half.
First the attack went from right-to-left with Harri Millard making ground, before it was switched back well to the right wing with Willis Halaholo and Morgan releasing Seb Davies to power his way over despite the attention of three Calvisano defenders.
Evans' conversion made it 10-17 but either side of the half-time break Cardiff Blues had to deal with being a man down as Keiron Assiratti was shown a yellow card after an illegal breakdown entry.
While Calvisano were no doubt impressive with their shackling of the danger posed by Evans and Halaholo at 10 and 12, the number of individual errors from the visitors was once again a cause for concern as we prevented ourselves gathering any real momentum during the middle of the game.
The hosts added another two penalties, although both came following some rather suspect refereeing, while Cardiff Blues struggled to add to the scoreboard as a lengthy attack in the opposition redzone failed to get over the line and never really looked like getting there either.
In the end though the battering at the door did eventually pay off as James Ratti, on for his debut, bust through a gap in Calvisano's midfield and though he was pulled down short the ball was recycled left for James Botham to grab his first try for the club.
That opened the floodgates somewhat as the confidence was restored to the visitors' play and the hosts' legs seemed to give out on them after 70 minutes of hard work.
Almost from the restart the bonus point was confirmed when a loose Calvisano kick was taken by Jarrod Evans before he embarked on a scintillating run, beating three men and drawing the last defender to put Rey Lee-Lo clear on the left wing.
There was just time for one final score as a better redzone attack drew the home defence in before the ball was spun wide through Ben Thomas and Dan Fish for Harri Millard to score out wide, Evans keeping up a brilliant 100% kicking record from the touchline for a final scoreline of 16-38.
John Mulvihill after the game remarked that 'we may have got away with one there', but I'm sure he, his coaching staff and the players will be pleased to have come away with the full five points and be ready to take on Leicester next week.
Make sure you get your tickets for what will be a big Anglo-Welsh clash under the lights at the Arms Park, with a number of players back involved after a week off, and even the chance that Hallam Amos and Owen Lane return to action.
Dan Pearce, 18th Nov 2019
Get Involved
If you liked this piece and want to contribute to the independent voice of Cardiff rugby then you can join us here. As a member led organisation we want to hear from you about the issues you want us to raise.