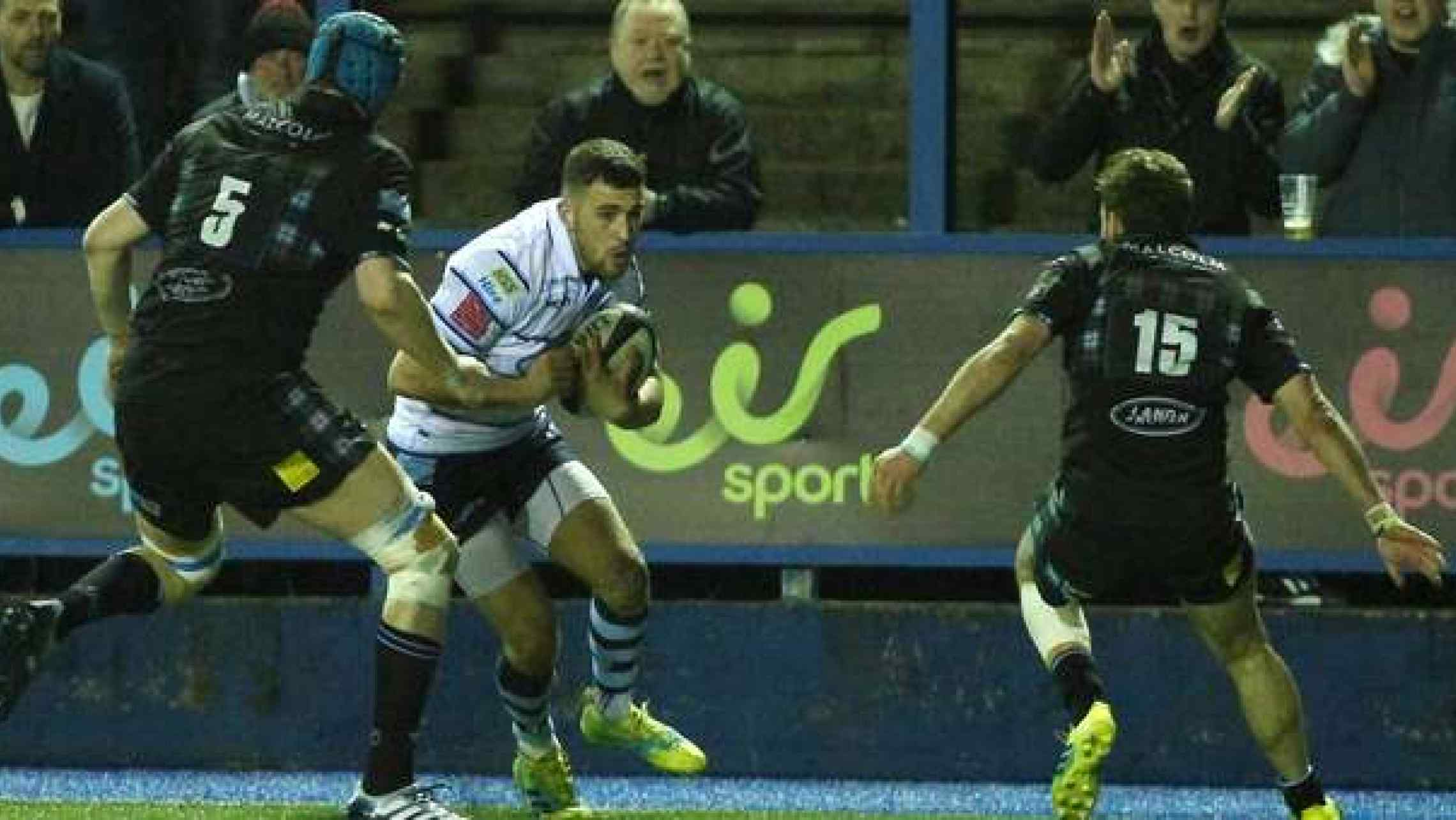 It was a rollercoaster ride at the Arms Park on Saturday as a 10-try thriller saw Cardiff Blues secure two valuable league points but fall just short against Glasgow Warriors.
In the end the Scottish side come away with a fourth victory over John Mulvihill's men this season, but the head coach will be pleased to take momentum forwards beyond this weekend, and with Ospreys and Cheetahs losing, it was positive result in the end.
The scoreline could well have been different though as Cardiff Blues took the lead after just three minutes and 22 seconds after a superb counter attack.
Rey Lee-Lo made an initial half break before Jarrod Evans broke through the Glasgow line brilliantly, finding Owen Lane on his shoulder who was brought down short. A quick recycle kept the move alive though, as the ball was switched to the left wing where Harri Millard chipped through for Aled Summerhill to gather and score.
Evans kicked the conversion, but after going behind early the visitors regrouped well, with Pete Horne kicking a penalty in front of the posts after a Josh Turnbull indiscretion, and then nearly having a shot at a conversion after Nick Grigg broke through the Cardiff Blues line with ease, but the final pass to Kyle Steyn was interrupted well by Summerhill.
However, just a few minutes later Glasgow did get over the line, when an Evans cross kick aimed for Lane cannoned off Ruaridh Jackson and the full-back was able to gather and carry forwards freely, passing inside for Grigg to bag the try.
Horne converted and just three minutes later became the architect for a second away try when a first phase line break from the fly-half saw the Cardiff Blues defence part like the blue sea, before Ali Price popped up in a tracking line on his inside to score, just like he had when the two teams met back in October's Heineken Cup pool stage tie.
Then finally Horne got over the line himself as a cutting Glasgow attack moved the ball quickly and with precision with Steyn looking as if the line was at his mercy but for a Rey Lee-Lo tackle, only to offload for his fly-half to score. Three successful conversions gave the visitors a 24-7 lead at the half hour mark.
Just as the game seemed to be getting away from Cardiff Blues though, we put together our best attack of the half and went through 19 phases with the killer blow coming from Matthew Morgan who sliced through the opposition defence before finding Summerhill on his shoulder for a second try.
Evans converted to give us hope at the break, which was continued into points at the start of the second half, this score coming even quicker than the first score of the game.
First phase attack on halfway saw Aled Summerhill and Rey Lee-Lo link up, Dmitri Arhip then carried before on phase three Jarrod Evans and Harri Millard were still in the line to release Owen Lane, with the winger tearing away to score in the corner.
Evans added a penalty to the score soon after after Arhip won a scrum penalty, before missing another from halfway as his kick fell short, but Cardiff Blues could not manufacture another try from open play as the game went it's longest period without any crossing the whitewash.
Eventually that peace was shattered by Glasgow though, with two tries in two minutes as the game edged towards the 70 minute mark.
It all came from a lost Cardiff Blues lineout that allowed Ali Price to break down the left, and although he tripped and eventually the ball turned over, Lloyd Williams' box kick clearance did not find touch and as Ruaridh Jackson carried back into our half he was caught by a Seb Davies no arms tackle.
Glasgow kicked to the corner and although the driving maul was brought down short, the visitors were able to recycle and Nick Frisby dived over from close range.
Then from the kick-off an innocuous carrying phase was turned into something more after George Turner was able to run through a big gap in the Cardiff Blues defence seemingly created by referee George Clancy getting in the way of Nick Williams.
The hooker ran over the top of Matthew Morgan before finding Tevita Tamielau on his shoulder who carried the rest of the distance to the line, Adam Hastings now on to convert both tries.
With the score now showing 22-38 and the clock only revealing eight minutes left it appeared as if the game was over and done with as a contest, however Cardiff Blues were not finished just yet.
A dangerous looking attack that saw strong carries from Liam Belcher and Garyn Smith before Owen Lane was pushed into touch just five metres from the line. However, Glasgow overthrew the lineout with Belcher pouncing and setting up another attack which ended with Jarrod Evans kicking through for Aled Summerhill's hat-trick.
That secured a try bonus point before a chaotic period of play began with Evans making a line break from deep before chipping ahead, which the away side recovered and kicked away.
It seemed the danger was over but Matthew Morgan took a kick throw in to himself, beat four defenders and returned to the opposition 22. Inside passes saw the ball bobble loose but Rhys Carre secured it and another Evans cross kick found Summerhill, who shipped it on to Lee-Lo, back to Summerhill and finally Garyn Smith who dotted down.
Now the score was 34-38 with two bonus points in the bag, and it was almost more as another dangerous Cardiff Blues attack came down the field but an Evans chip through could not be caught by Lane and the covering Hastings avoided being pulled into touch.
In the end it was so close yet so far for John Mulvihill's men, and there were certainly some disappointing aspects to our play with one or two of the Glasgow tries coming from soft pieces of defending and the lineout again failing to function like a cohesive unit.
However, the two league points were a decent return against a very good attacking outfit who will no doubt be challenging in the play-offs at the end of the season, and keep us fifth level on points with the Ospreys and four behind Connacht, with Cardiff Blues arguably having the easier fixtures over the next two rounds.
The effort from the players to drag themselves back into the game was admirable, although putting together an 80 minutes performance is now key to secure the crucial wins that will push us towards the play-offs and a return to Heineken Champions Cup rugby.
Dan Pearce, 18th Feb 2019
Get Involved
If you liked this piece and want to contribute to the independent voice of Cardiff rugby then you can join us here. As a member led organisation we want to hear from you about the issues you want us to raise.