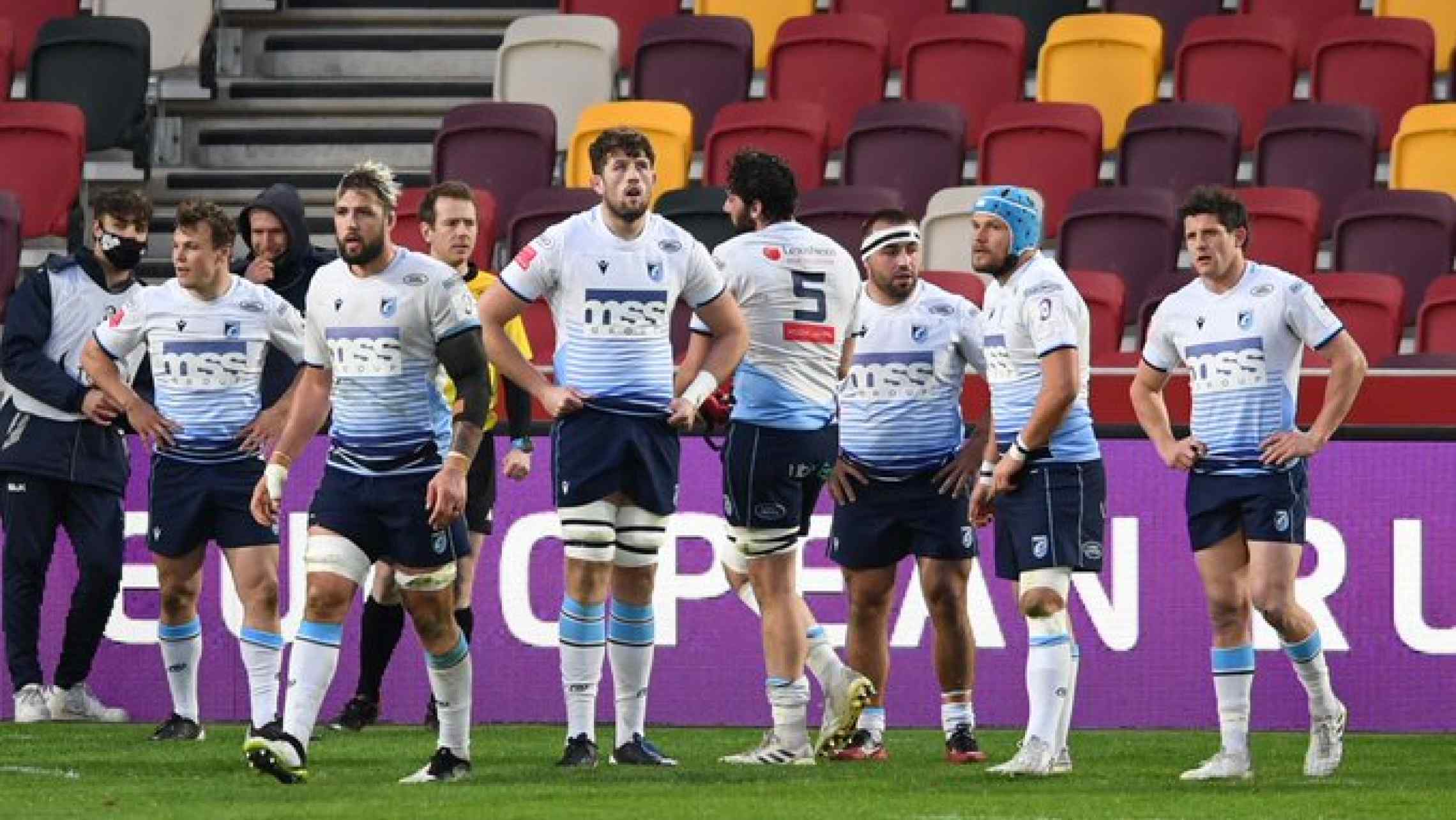 Cardiff Blues somehow managed to throw away a 12-point lead with less than 10 minutes to go against 14-man London Irish to crash out of the European Challenge Cup at the Brentford Community Stadium.
Up against the Exiles who are currently sixth in the Gallagher Premiership and were welcoming the likes of Agustin Creevy and Albert Tuisue back into their starting XV, Dai Young was able to call upon 11 players who were part of Wales' Six Nations squad, including Cory Hill, Josh Navidi, James Botham, Tomos Williams, Willis Halaholo and Josh Adams who all started.
It was a cagey opening 10 minutes as both sides got a feel for the opposition and squandered opportunities that came after kicking to the corner, while Jarrod Evans and Paddy Jackson missed a penalty each, until the latter finally opened the scoring after Cardiff strayed offside from a kick chase.
That sparked the away side into life though as a Josh Navidi pop pass sent Cory Hill racing down field, and although the last pass to Tomos Williams didn't find the scrum half's bread basket, a rushed Irish clearance allowed Rey Lee-Lo to immediately return the ball to the opposition 22. The referee awarded a penalty under the posts and Kris Dacey tapped quickly to drive over assisted by Josh Turnbull, with Evans converting.
This was quickly followed by a second Cardiff try after a moment of Seb Davies brilliance. The Exiles attacked in our half but the ball went to ground and Dacey pounced putting the big second row clear. With covering defenders chasing him down he had the awareness and vision to spot Josh Adams flying up in support in the right wing and dropped the ball perfectly on to his left boot for the winger to run on to, dribble ahead and score.
Evans added the extras and another penalty shortly after for a 3-17 lead at the halfway point of the first half, but from that point until the break it was all London Irish as the home side turned the momentum in their favour.
Two big carries off a midfield lineout set up a pre-called play that saw Paddy Jackson switch back to the short side with Ben Loader on his inside shoulder and the winger sprinted clear to score. Jackson converted and added a penalty to cut the lead to just four as the teams headed for the sheds.
The half-time break appeared to allow Cardiff Blues time to re-group and we came out in the second half once again dominating possession and territory, but struggling to break down the home defence until the game was turned on it's head as the TMO spotted contact to the head of Dillon Lewis in a tackle and loosehead prop Will Goodrick-Clarke was sent off. Evans took three points from the resulting penalty.
Irish did not let this impact them though and from first phase play took advantage of some poor defensive organisation from us in cutting edge fashion as Theo Brophy-Clews did Rey Lee-Lo for pace on the outside and put Ollie Hassell-Collins over on the left wing, and Jackson converted to tie the scores.
Then another key refereeing intervention as the TMO again spotted an infringement and this time Ben Loader was shown a yellow card sending the Exiles down to 13-men, and this time Cardiff made no mistake in using their numerical advantage.
A smart Josh Adams kicked pinned the home side in their own 22 and when Turnbull stole the lineout the ball was moved quickly from left to right with a superb final pass from Willis Halaholo putting Jason Harries over out wide.
Some good defence backed that try up, with Kris Dacey stong over the ball before James Botham and Cory Hill forced a maul turnover, and with the response from Irish dealt with Cardiff headed up-field. Eventually a good sharp on the left-hand short side of an attack saw Evans bring Harries off his shoulder and the winger broke a tackle before using Lloyd Williams on the support who dummied the last man and scored.
Evans converted to make the score 20-32 going into the last 10 minutes with Irish back to 14-men, but at this point things started going very wrong for the away team.
First some very weak tackling allowed Terrence Hepatema to score under the posts, with Jackson adding the extras, and then once again on first phase play they caught the Cardiff defence in disarray as an inside pass put Hassell-Collins over for his second try. Suddenly Jackson's conversion put the hosts into the lead.
Irish attempted to let us back into the game when their clearing kick went out on the full following the kick-off. We set about looking for a crucial score and secured a penalty advantage which Jarrod Evans used to slot a free-shot drop goal over with two minutes to go. It gave us the lead but will be hotly contested over whether it was the right decision.
The truth is that hindsight can only judge it because the defence that followed was once again not good enough. As play restarted we gathered the ball and kicked down field, but more poor tackling allowed Curtis Rona to go deep into our 22, and there was a certain inevitability as Hassell-Collins grabbed his hat-trick and won the game for London Irish.
Heartbreak for Cardiff Blues but self-inflicted as a 12-point lead against 14-men was not managed anywhere near the standard that is required to win a European knockout match. Giving the opposition easy possession and then backing that up with the worst defensive performance of the season is a recipe for disaster and so it proved.
As Dai Young nears the signing of a contract to stay at the Arms Park for the next few years there is much for him to ponder ahead of the Rainbow Cup starting in a few weeks.
Dan Pearce, 3rd Apr 2021
Comments
Is there a defence strategy ?Have not seen such inept team/midfield defence by a Cardiff team in thr professional era;Who coaches what & who is accountable
Leave a Comment
Get Involved
If you liked this piece and want to contribute to the independent voice of Cardiff rugby then you can join us here. As a member led organisation we want to hear from you about the issues you want us to raise.