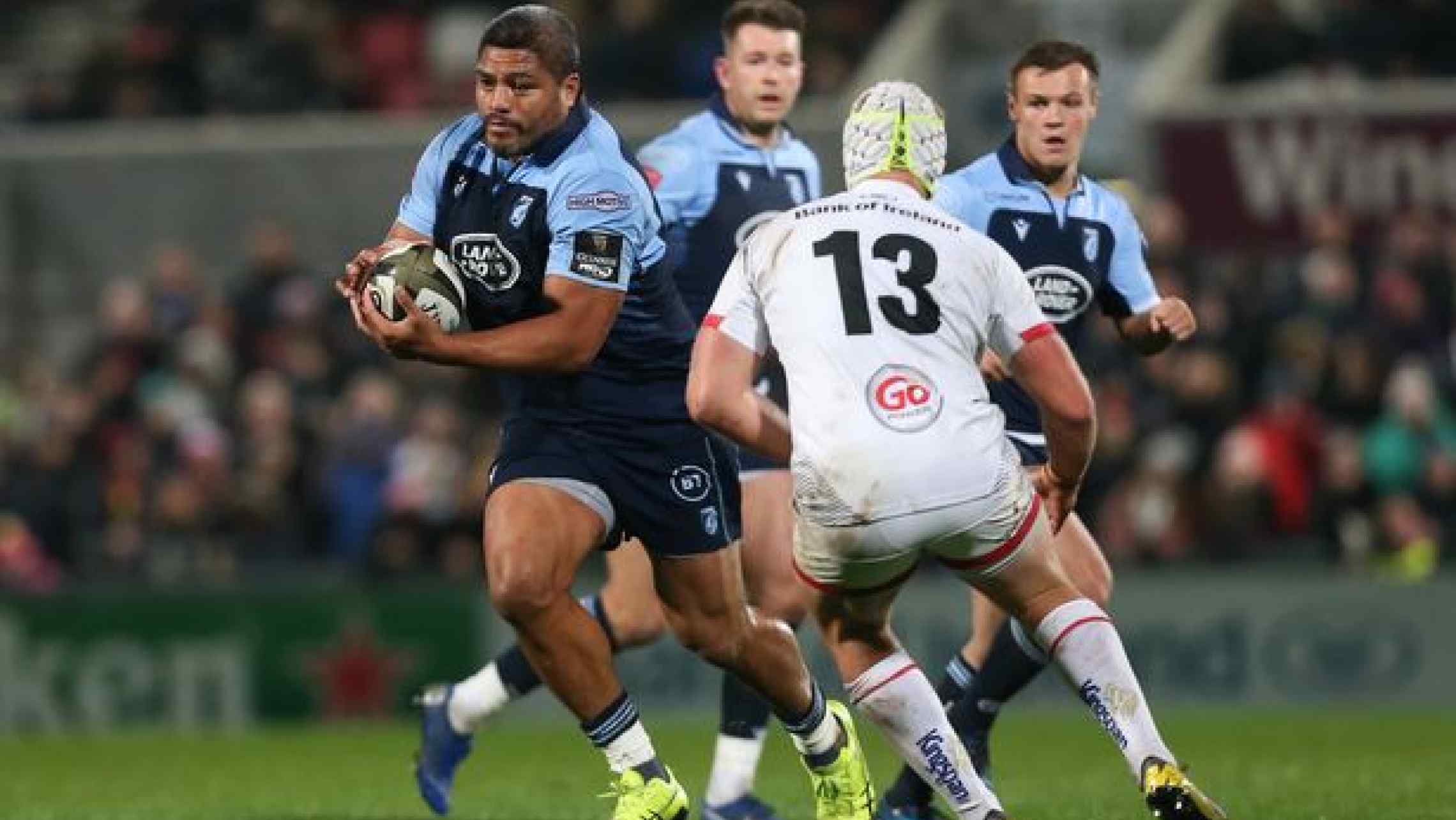 Cardiff Blues suffered a third loss in a row on Friday night as we went down to Ulster away at the Kingspan Stadium after a nightmare start to a game once again.
Following on from the defeat away at Glasgow John Mulvihill had been forced to make two changes to his starting XV, with Scott Andrews and Jason Harries coming in for the injured or internationally called up Dmitri Arhip and Owen Lane, while Nick Williams replaced Seb Davies as Josh Turnbull started at second row.
However, those changes could not prevent what was an almost identical slow opening to the game from Cardiff Blues, as we were stuck on the back foot after the first 20 minutes with little chance of coming back.
The scores were opened inside three minutes as Jarrod Evans attempted to kick clear from the middle of the field only to be charged down by Sean Reidy who offloaded to Luke Marshall in support and the centre went over, with John Cooney converting.
A few minutes later the scrum-half extended Ulster's lead by three when Josh Turnbull was penalised for offside, but Cardiff Blues' first attack was a dangerous one when Matthew Morgan's kick through was fielded dreadfully in his own 22 by Will Addison to concede a lineout.
Unfortunately the lineout went through the hands of Rory Thornton at the back, and two minutes after being in the red zone we were 17-0 down when the home side built phases in our 22 and eventually Billy Burns was able to ghost through the middle of the defence almost untouched. Cooney converted once again.
For the second game running a switch was then flicked at the 20 minute mark with Cardiff Blues staring a heavy defeat in the face, and we started dominating both territory and possession, but in yet more déjà vu could not convert pressure into points.
Half-breaks from Aled Summerhill and Matthew Morgan ended up going nowhere, before Will Boyde broke cleanly after a Nick Williams pop pass before kicking ahead but the covering Ulster defence beat Lloyd Williams to the loose ball.
Unfortunately the big issue was handling errors on a wet night in Ulster and although we continued to camp in the opposition 22, we spilled possession too many times to get on the scoreboard before half-time, even when Marshall was sin binned.
Fortunately after re-grouping during the break we were able to come out in a much sharper fashion early in the second half and finally broke our own deadlock after three minutes.
Matthew Morgan put Rory Thornton through a gap and Aled Summerhill was on hand to pick-and-go from the base of the ruck, taking advantage of the Ulster scramble defence to get over the line. Jarrod Evans added the extras.
The shine from that score was taken away slightly as Jason Harries immediately conceded a penalty from the restart when obstructing a chasing opposition player, with John Cooney making the score 20-7, but just as Ulster were recovering we hit them with a score again.
This time Olly Robinson bagged a turnover and the ball was spread to Garyn Smith for a kick through. Cooney could not hold on to the ball and Harries pounced, before possession was recycled for Will Boyde to bag himself a try. Evans' conversion took us to just six points behind with around 20 minutes still to play.
Once again Ulster hit back with a penalty as we infringed in our own 22 when under a bit of pressure, but we managed to stay dangerous largely thanks to an imperious scrum that secured at least three penalties during the course of the game.
It offered a strong platform and excellent field position, but as has been the case in each of the last three games, the attack just could not come up with the goods that would have seen us at least nab a losing bonus point.
There was an opportunity to come within the seven points required to take something back to South Wales, as Jarrod Evans lined up a penalty with the last kick of the game, but it drifted wide and, in truth, you would be hard pushed to say we deserved to take anything from the 80 minutes.
John Mulvihill, his coaching staff and the players now have two issues to address as they noticeably become increasingly problematic.
Firstly, getting a good start. So far this season Cardiff Blues have lose the first 20 minutes with an aggregate scoreline of 17-43, before going on to win the remaining hour of games with an aggregate scoreline of 52-43. If we had got going straight in Glasgow and Ulster we would more than likely have been talking about two wins.
The second issue is the attack. Our attack is currently 10th in the Guinness Pro14 as a whole, and the worst in our Conference B, with just 69 points and nine tries scored from the four rounds of action so far.
With possession and territory not an issue, adding a cutting edge to our game is the critical component that can turn games from disappointments to successes, whether we play particularly well for the full 80 minutes or not.
There is plenty of work to do in training this week as we welcome Munster to the Arms Park this coming Saturday, a team in good form who could well welcome back some Irish internationals into their matchday 23.
Dan Pearce, 28th Oct 2019
Get Involved
If you liked this piece and want to contribute to the independent voice of Cardiff rugby then you can join us here. As a member led organisation we want to hear from you about the issues you want us to raise.