The CF10 Rugby Trust was formed in May 2016 and is a democratic and representative organisation open to all supporters of Cardiff Rugby and Cardiff RFC.
We are a Community Benefit Society established under the Act of 2014 and are registered with the Financial Conduct Authority.
We believe supporters and our members should determine our goals; our mission statement was produced directly by our membership and is open to review at every AGM.
We hold open board meetings most months and observers are welcome to attend. Simply contact us for details.
We have achieved a great deal since our formation. Our membership is now approaching 900. Many members who hold shares in Cardiff Rugby have proxied these to the trust so that we now hold a combined total of over 38,000 shares and are the 8th largest shareholder in the company.
We meet regularly with key stakeholders at Cardiff Rugby in order to promote member views.
We're proud to say that we have achieved one of our initial primary goals by having a supporter representative on the board of Cardiff Rugby.
We are also a key driver and working as part of the Heritage Committee at Cardiff Arms Park and have been instrumental in cataloguing the memorabilia belonging to both CAC and Cardiff Rugby, ensuring that this is properly stored and insured, and have built a virtual online museum that now has some 2000 objects or more.
Trust membership is very affordable and you can join here and in doing so ensure that your voice is heard as part of a vibrant and growing supporter movement for Cardiff rugby.
Our Board
Lynn Glaister : Chair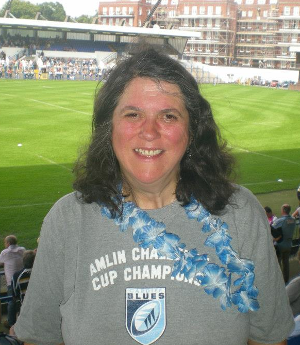 I can't pretend to be born and bred loving rugby, like so many of you. I only discovered rugby union when I moved to Cardiff 38 years ago (having previously lived in the rugby league and football supporting north!
I have been a regular since that time. I have followed Cardiff, and then the Blues, now Cardiff Rugby again, across Europe with my husband (sadly now deceased). I live in Cathays and my other interests include music, politics, and real ale! My career has included being a Training Officer, a manager for an insurance company in various departments, Senior Researcher and Office Manager for South Wales Member of Parliament, and most recently I am in final year of a Fine Art Degree.
I believe the supporters voice should and must be heard. In an era when we rely on the WRU, benefactors or corporate organisations to finance our clubs it is increasingly difficult to ensure supporters wishes and needs are met. It is important that we have a powerful independent voice that is committed to finding out what the supporters views are and then to feed this back to the club, this Trust has given us an opportunity to have such a body. Over the last 7 years we have met with Cardiff Rugby almost monthly to ensure our supporters voices are heard when decisions are being made. We don't always get what we think our supporters want but I promise you we do try.
I also believe that the make-up of the board should reflect the demographics of our support. Even though it can seem like Rugby is a man's world women do have a place in rugby, as players, supporters and administrators to name just a few ways to be involved. I want to help encourage more women to get involved in supporter's organisations and that is why I joined the CF10 Rugby Trust.
I am a member of JSG Cymru, which is the supporters group which is made up of members of the supporters trusts and supporters clubs from the 4 professional clubs in Wales. In that capacity I have often undertaken media work on their behalf.
Welsh Rugby is undergoing a challenging time, much of its own making, At this time it is important that the supporters speak up I I am fully committed to our club and want to see it thrive. I have watched Cardiff and Wales all over Europe, I have seen the highs and the lows. I have watched us lift cups in Marseille and Twickenham. I just love the game. I understand the need for progress, but also respect the past. I want our club to succeed again, to achieve the highest level we can, and I want the fans voices heard by the Directors of Cardiff Rugby and Welsh Rugby.
---
Andy Baker : Secretary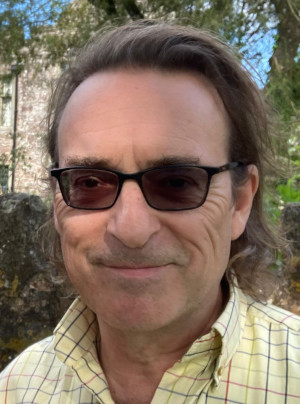 I wish to ensure that CF10 continues to be an independent critical friend of the powers that be at Cardiff Rugby and to democratically represent the views of the often unheard supporter. I strongly believe in the trust's published mission statement and seek to ensure that those guiding principles are adhered to in the potentially difficult times that lie ahead.
I was one of the small group at the initial meeting that kick started the concept of a supporters' trust and was subsequently a member of the working party that formally established CF10. I then became one of the original board members, taking the role of membership secretary, which included being involved in the establishment of a matchday presence at The Arms Park.
Professionally I'm a freelance software engineer and web developer. As such I built, host and maintain both the CF10 and Cardiff Rugby Museum websites. Well, someone has to!
On a more personally note I was born and raised in the backstreets of Cardiff and one of my earliest memories of going to The Arms Park was watching Gareth Davies score a ridiculous amount of points in a match on a cold crisp Wednesday evening. Having moved away for employment reasons I became re-engaged with Cardiff rugby around the turn of the century and I've been a season ticket holder pretty much ever since (missing the second season when we moved to CCS), attending most home games and many away ones, supporting both Cardiff RFC and Cardiff Blues/Rugby. From Aberavon to Zebra via Twickenham 2009, Marseille 2010, Bilbao 2018, and far too many places and beers in-between.
Outside of rugby my interests lie in music, industrial heritage and the natural world.
---
Derek Redwood : Treasurer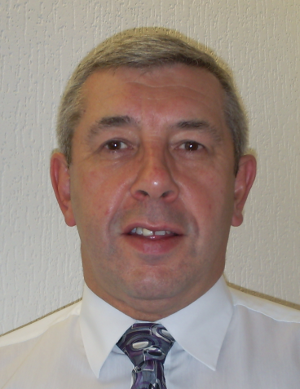 I have worked in an accountancy practice since leaving school in 1972. I am a qualified chartered accountant (FCA) and I am Managing Partner in Clifton House Partnership - a long established four partner practice in Cardiff. Looking after the financial affairs of hundreds of small and medium sized enterprises has given me a very wide range of skills and experience in the financial affairs of all types and size of business and voluntary groups. I believe that the Trust can benefit from that experience and that I am well placed to deal with the financial regulations to which we must adhere.
I am well versed in dealing with information of a confidential and/ or sensitive nature as well as the requirement for transparency in the financial dealings of the Trust. I am confident that I can make a positive contribution to the future of our fledgling organisation. My practice has acted as auditor for governing bodies and area associations in Welsh sport. I have personally acted for professional sportsmen and entertainers and have a good understanding of the issues facing individuals and organisations involved in sport.
I am encouraged by the enthusiasm and progress made by the group and I am a firm believer that the Trust can fulfil a role that can be of benefit to the rugby club and its supporters. As a lover of tradition I am particularly keen to play even a minor part in helping to preserve the heritage of a great club
I was born in Cardiff and have lived here all my life. I attended three different schools in the Canton area and played rugby at all school age levels. My interest in the game was encouraged by having the late Howard Norris as our games teacher in 2 of those schools. I regularly attended Cardiff RFC games in the late 1960's courtesy of the complimentary tickets provided by Howard.
I have been a season ticket holder at Cardiff for the last 15 years or so
My sporting career was in the round ball game and I was proud to have represented Wales at schoolboy and semi- pro levels. I was manager and later Chairman of a Welsh League football club for many years and have extensive experience in sports administration. In the voluntary sector I served as governor in a primary school for seven years followed by a 10 year term with a local sixth form college. I am currently an advisor for Tax Volunteers ( a charity ) and I am the founder of a fund raising group for a Welsh children's' charity. In that role I have been directly responsible for raising almost £300k in support of Bobath Children's Therapy Centre Wales. I was a very proud torch bearer in Cardiff alongside Sam Warburton for the 2012 Olympics and was awarded the British Empire Medal for charitable work the following year.
You many contact Derek if you wish to ask him a question.
---
Simon Baker : Director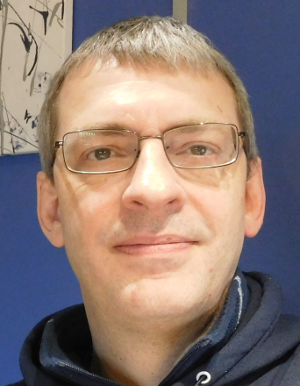 Ok, so I was born in Newport, it's not my fault! But I am Cardiff bred. There is Brains beer running through these veins (probably literally). And I love my rugby!
I'm a committed and passionate supporter of Cardiff Rugby and Cardiff RFC and have been a season ticket holder and member for many years. I attend most home games and as many away games as I'm able.
Over the years I have been one of the silent majority bemoaning everything there is to bemoan about Cardiff Rugby! Now there is an opportunity to turn that silent majority into a vocal majority - to have a real critical voice.
Our club will be stronger if the voice of the supporters is heard and listened to. This I believe can be best achieved through the supporters' trust. Together as a formal, democratic organisation we can strengthen the influence of supporters over the running of our club.
I've been a member of the CF10 Arms Park Rugby Trust working party since the first open meeting where we secured a vote to form officially and ever since have been actively involved in helping setup the Trust.
I am a member of the Cardiff Athletic Club heritage group and run the Cardiff Rugby Museum website. The history and heritage of Cardiff Rugby has become very important to me. The history of our club, in rugby terms, is of worldwide importance, through the CF10 Rugby Trust I will help to preserve our history and heritage.
---
Andrew Bold : Director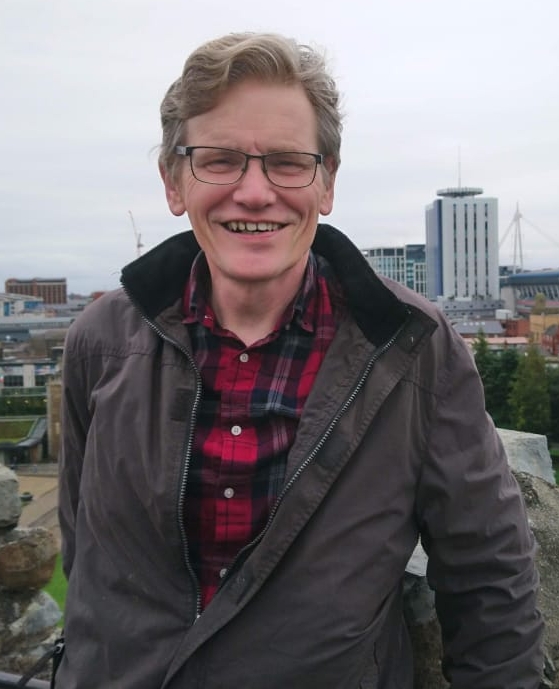 I work as a transport policy adviser in the public sector, and have previously had various roles as a political researcher and adviser. I have degrees in history and industrial relations, and a doctorate in regional economic development.
From growing up watching legends like Gareth Edwards and Gerald Davies in action to seeing, in recent years, the stars of the future step on to the pitch for the first time, it has always been an experience to come to the Arms Park.
As a season ticket holder and regular attender of the Trust's open meetings, I am looking forward to making whatever contribution I can to their work, as a Board member.
.
---
Sally Carter : Director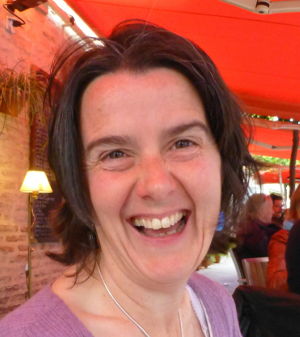 I was immediately attracted to the aims and goals of CF10 Rugby Trust and joined up as soon as I saw the link to the website. I love the experience of watching rugby at the Arms Park, meeting up with friends and getting to know fellow season ticket holders sat in my little bit of the South Stand. Nothing really beats the experience of watching live rugby, even when the team aren't playing well. The banter and camaraderie of fellow supporters keeps me going through the freezing cold, pouring rain and endless knock-ons.
I strongly believe that a good relationship between fans and club is vital. This was shown all too clearly when the club ignored what the fans wanted and moved out to Cardiff City Stadium. Most of us tried our best to cope with the new venue but the stadium never felt like home. We lost our link with the heritage of the club, we felt like visitors in our own ground, and people stopped coming to watch the games. We must never let something like that happen again. A good relationship between club and supporters is beneficial to everyone, fostering a real sense of family. I would like to help to make this a reality.
As a Museum professional I am passionate about Welsh heritage and keen to ensure that the potential of Cardiff's fantastic rugby heritage is fully realised as part of any future redevelopment. This must include both the history of Cardiff RFC as well as the woefully unrecorded history of the Cardiff Blues. The recent survey conducted by CF10 shows that people are very supportive of including a heritage centre within any proposed redevelopment and I would love to help drive this forward.
I would like to make sure that the views of women who attend games at the Arms Park are fully represented. I know that there are many passionate and knowledgeable women supporters and they have strong opinions about the future of the Arms Park that need to be part of any broader discussion going forward. Related to that, I also think it is vital that we retain the welcoming and safe environment of the current ground. I have never had any fears about attending a match alone and maintaining that friendly atmosphere is essential in any future redevelopment.
If we are able to give the Supporters a real voice in the future of the club and the redevelopment of the ground then we will be able to both protect the past and embrace the future.
---
Andrew Collins : Director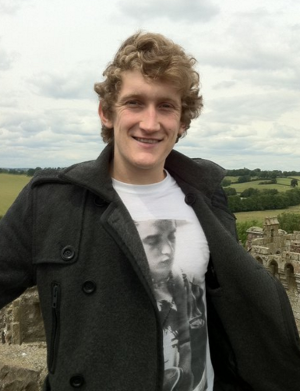 Having been involved with the Trust since the first meeting, I feel I have played a significant role in its development from concept to now having over 300 members. During the early stages of the Trust's formation, I made valuable contributions to what would become the vision and direction. As these developed, I helped to clarify this message and make it meaningful to supporters. It was at one of the first meeting that I suggested the all-encompassing phrase 'Protecting the past, embracing the future', which has since become the Trusts' strapline.
I was heavily involved in developing the brand and its online presence through new digital media, this included setting up social media accounts and establishing an online presence. I co-ordinated online campaigns to promote the Open Meeting – the success of which was integral to the Trust's formation – and assisted with the creation of the CF10 website. Following that first event, I continued to run the social media accounts with promotions, such as the #ClassicMoments weekly videos during the off-season. Whilst I have since handed this responsibility over to others with greater experience, during this time the Trust's social media accounts gained over 500 followers, greatly helping to get the message across to fans and stakeholders.
I have also been involved in creating promotional material for both online and offline distribution. This has included producing infographics and share-able content for social media and creating printable flyers for events. More recently, I designed the CF10 Rugby Trust Fanzine, which was printed and distributed at matches. This involved working with other members of the team, who were creating the content, to ensure word count did not exceed the available space and to produce a Fanzine which looked professional and striking.
Aside from specific tasks and responsibilities, I have attended nearly all the Trust's meetings to date and have been present at key events and promotional campaigns. I believe I have been able to offer the group useful advice, opinions and suggestions at these meetings, all contributing, in small ways, to the overall success the Trust has enjoyed.
My passion for Cardiff Rugby led me to get involved in setting up the Trust and I truly believe it will become an influential force and voice for its supporters. There is still a long way to go before we achieve that status, however I would greatly like to be involved in this process and hope to continue to support the group in the role of Board Member.
You may contact Andrew if you wish to ask him a question.
---
Steve Coombs : Director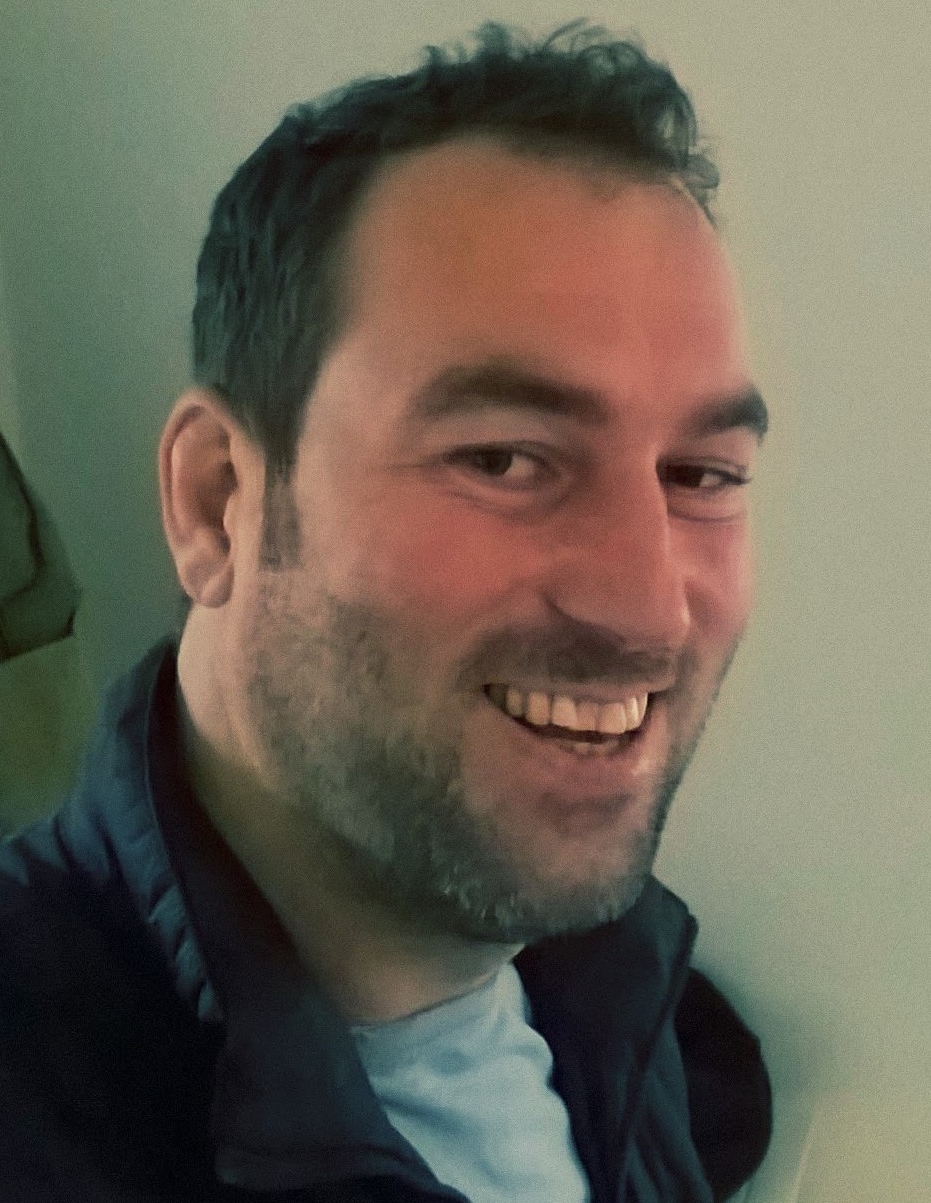 I'm a third generation Cardiff rugby fan and had my first junior season ticket in 1989. Sometimes I'm not sure that was a very constructive decision, but like thousands of other loyal supporters I'm still here.
I've had a season ticket most seasons since. I spent several years teaching English overseas and following the club from afar. I now run my own business in Gloucestershire, where I try not to be too envious of the frequent local derbies enjoyed by Gloucester and Bath fans.
Like many other Cardiff fans I grew up in the valleys north of the city. I represented Mid Glamorgan schools and Abercynon Youth. So, I feel I understand both the history of Cardiff rugby club and the rugby culture of the wider region. I believe that embracing the club's heritage and embracing players and supporters from outside the city is not a contradiction. In fact the two things should naturally go together.
The club lacks a coherent, consistent identity and I believe this is at the root of it's biggest failings. As organised supporters we can help drive positive change at the club.
I've contributed to blogs on the CF10 site, which were obviously impressive enough to get me invited onto the board. I'm also involved in helping run the social media account.
---
Simon Jones : Director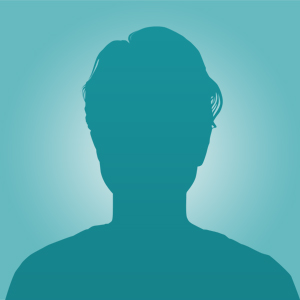 I strongly believe that the voice of supporters should be heard at all levels of professional sport. I moved to Cardiff in 2003 and started to come down to the Arms Park regularly, soon becoming a season ticket holder (much to the dismay of my family who are all Scarlets fans!). My support for Cardiff has led to me meeting a wide range of people and travelling to Newcastle, Leicester, Toulouse, Dublin, Limerick and even Newport, Swansea and Llanelli to follow the team.
I feel that at times the voice of those of us who turn up every week to cheer from the stands and terraces are not as effectively heard within Welsh rugby as a whole and want Cardiff to take a position whereby it is leading in how it engages supporters not only in the match day experience, but within the governance structure of the club. I see no reason why this is not possible and would want to see clear structures put in place to represent the voice of supporters, but also to be regularly seeking feedback and views in order to develop the overall strategy for professional rugby in Cardiff.
I have over twenty years' experience working in communications, politics, policy and public affairs. This has included seven years as Head of Communications at Sport Wales, where I was able to develop an understanding of sport governance as well as the principles of sport development. My period with Sport Wales coincided with some major sporting events including the 2012 and 2016 Olympics and the 2014 Commonwealth Games, which enabled me to experience how these events work and started a period of unprecedented success for Welsh sport which I was responsible for communicating and harnessing in order to increase participation across the nation.
I was originally involved in the working group to establish the Trust, developing a communications plan for the official launch.
Submitted by root on Fri, 02/09/2016 - 06:08