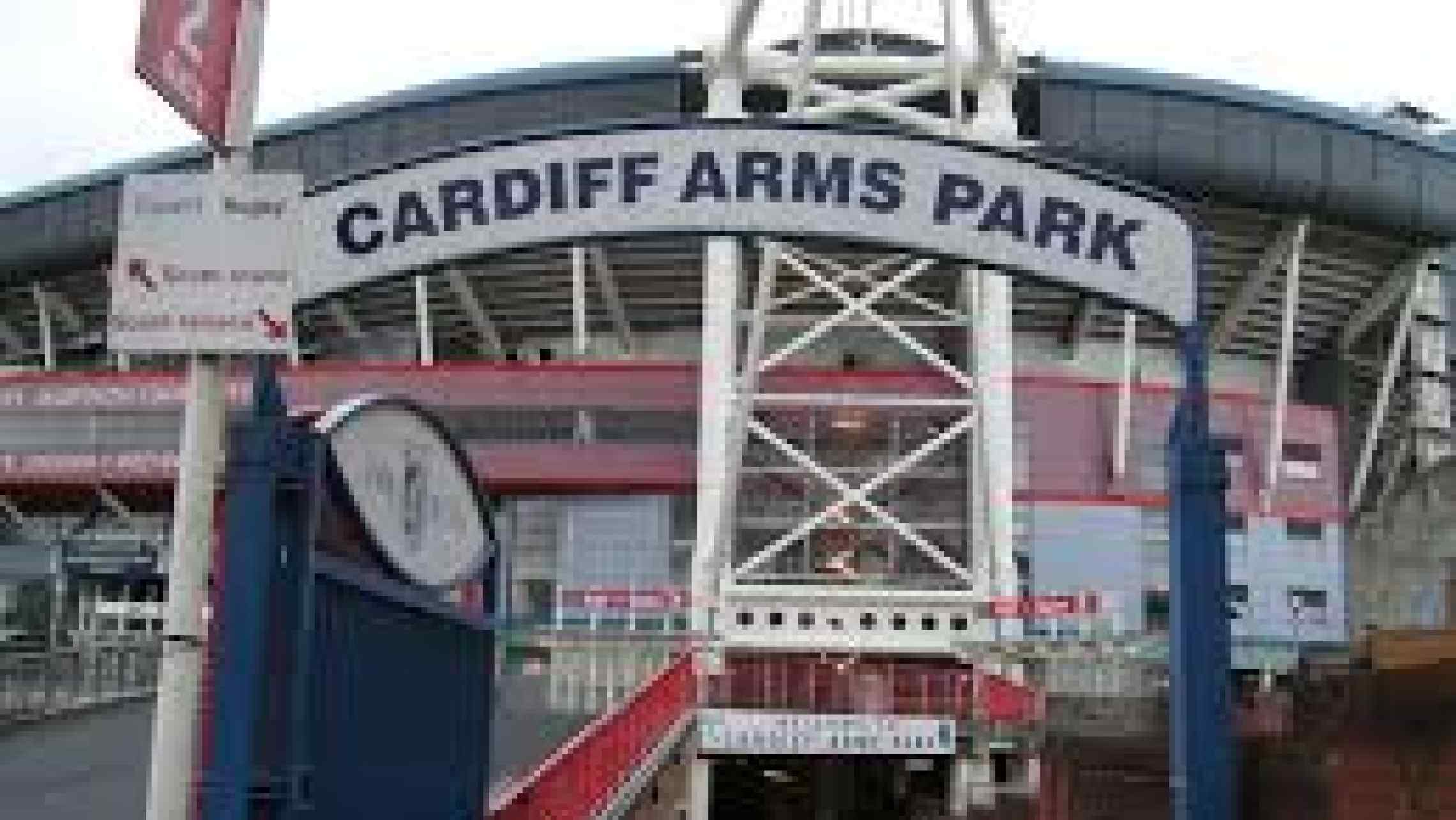 Never go on holiday. It all happens when you go away. The only surprise is that I'm surprised. How naïve can I be. Just when you think we have turned the corner at Cardiff Arms Park (CAP), the good become the bad; the bad become the good and Scrum V finds its cojones. As my Irish friend used to say, 'You couldn't make it up'.
It all started so well too. The normally bland Scrum V, or Chum V as its better known to the Twitterati, decided they would do a piece on the chaos that people perceive is the Cardiff Blues club and boy did they do a job on it. Led by the great Peter Jackson, a man who knows more about Welsh sport than any journalist I know, he set out and articulated the demise of the once great club. This led to a tour de force analysis of where responsibility rests for the club's current problems from an ex-Cardiff openside flanker (no don't be silly not Martyn Williams) but the GP, Dr Gwyn Jones. He ripped into the Board and especially the Chairman Peter Thomas for the shambolic management of events over many years. It was devastating. Made even more so by the fact that it was delivered by an ex-club captain. BBC Wales had found its cojones and boy did they flaunt them. More please.
Only the most heartless person would not have been affected by this broadside. There is little doubt it hurt Peter Thomas. A man who has put around £13 million of his own money into the club but more importantly a fan who is a Cardiff man through-and–through. It would have hurt; big time.
The club were invited to participate in the programme but rightly chose not to do so. They also chose not to respond through the media but to focus on 'the people that matter, the fans'. They held an open meeting for season ticket holders, Supporters Club members and CF10 members to explain their position. Fronted by CEO Richard Holland rather than the Chairman, they handled it well. He focused primarily on the future rather than the past and presented a number of important decisions which Mr Thomas had agreed beforehand. These included:
They have no intention of handing the club back to the WRU (yes, they've learned from that mistake);
A commitment to retaining the name 'Cardiff' and the club colours;
The Board has agreed to set up a working group, chaired by Board member Martyn Ryan, to advise it on the development of a vision and strategy for the club;
The Board will also consider the appointment of two non-executive directors to assist it and improve governance;
A second proposal, supported by Cardiff Athletic Club (CAC) Rugby Section, for a joint venture to redevelop CAP will be considered by the CAC Management Committee (CACMC).
OK, these commitments of themselves don't solve all the problems but they are a massive start. It's clear the club are listening to supporters. Overnight the Bad Guys became the Good Guys.
If this was a video, you'd want to stop the story at that point. Unfortunately, the melodrama that is CAP wasn't destined to end there.
As my Irish friend said once more, 'You couldn't make it up'. The CACMC rejected the joint venture from their own Rugby Section. In a bizarre statement that started by reiterating recent history they said that the joint venture was too risky but they want further detail and clarity.
Why would anyone want to provide more detail on something someone has rejected?
They also said that 'they want evidence of financial stability, assurance on the direction of regional rugby in the context of CAP and a review of corporate governance at Cardiff Blues Ltd'. Well, Richard Holland's statement above goes a long way to addressing the second and third points (governance being an issue CF10 has been banging on about since its inception https://cf10rugbytrust.org/blog/love-and-governance-at-cap). CAC would be better off approaching the WRU to ask about financial stability. To be fair to Peter Thomas and Martyn Ryan, they invested £1.7m and £425,000 respectively last year. The governing body needs to recognise that high performance doesn't come cheap.
Cardiff Blues want the redevelopment; Cardiff Blues fans want the redevelopment; Cardiff RFC fans want the redevelopment; CAC Rugby Section want the redevelopment. The stadium is in desparate need of redevelopment both from an asthetic point of view but more importantly from a health and ssafety perspective. But CACMC are blocking progress. They have no alternative proposal and their position is simply to say come up with something else for us to consider. Well in any negotiation both parties have a moral responsibility to act positively. CAC are not doing this.
One of the possible difficulties is that only one of the CAC representatives on the Blues Board comes from the Rugby Section; of the others, one has publically expressed the view that getting rid of the Cardiff name is long over-due, something which is surely sufficient to debar him from holding the position. At the end of the day, this is a rugby matter and cannot be determined by the non-rugby sections.
There is little doubt that there is an 'us and them' situation between CAC and Cardiff Blues. This is really odd because the former is the largest shareholder in the latter through its heritage shares. CAC also have three representatives on the Cardiff Blues Board, for goodness sake. Both Cardiff Blues and Cardiff RFC play at CAP and the former funds the latter. If ever there were two organisations which should be working together for mutual benefit it's these two. They are inextricably linked and their futures are not mutually exclusive no matter what some believe.
Yes, there is a risk if they progress but here is also a risk if they don't progress. This does not appear to be a consideration at the moment.
As John F Kennedy said, 'There are risks and costs to action. But they are far less than the long range risks of comfortable inaction'.
Why on earth a joint vision hasn't been established before people started discussing financials is beyond belief. People need something to get behind and commit to if they are going to make progress. Passion is a great force in unleashing creativity because if you are passionate about something you are more likely to take risks and make it happen.
We need optimistic people on both sides of the table because it's these type of people who shape our lives and became our leaders. They got to where they are because they took risks.
CAC were right to reject the initial proposal when the option of WRU takeover was on the table. In that regard they were certainly the Good Guys. But to reject a recommendation from their own Rugby Section, as well as Cardiff Blues, has now made them the Bad Guys. They have now lost the confidence of the majority of their members and seriously risk a vote of no confidence in their management of this issue.
Each member of the CACMC needs to look closely at that themselves and not hide behind committee decisions. To quote Eldridge Cleaver:
'You either have to be part of the solution, or you're going to be part of the problem'.
We need more Good Guys and we need people with cojones, be they men or women.
Huw Jones, 21st Oct 2017
Get Involved
If you liked this piece and want to contribute to the independent voice of Cardiff rugby then you can join us here. As a member led organisation we want to hear from you about the issues you want us to raise.
Comments
I've been a supporter of Cardiff Rugby for 60 years, now live in Sussex and have been watching this potential tragedy from afar. I was a member of CAC for some years and think I understand it's arcane workings. Given the people numbers involved I can't understand why Blues season ticket holders who care don't simply co ordinate activity to join the various sections of the club, swamp the numbers, elect right thinking folk and get this hammered through.

Tell me if I'm missing something.

In reply to above post I can't see any problem with suggestion except it will take a long time to swamp and rugby people would be unlikely to join cricket, hockey , tennis and bowls sections become established and then get on CAC management committee. CAP would long have floated down the Taff by then.

Action is needed now in form of EGM and likely vote of no confidence in management committee. This would be best brought about by rugby section but do they have the balls to do it? Is their loyalty to CAC as an institution or to continuation of pro rugby in Cardiff?

For my part I have never understood why in a predominantly rugby club the rugby section needed any association with other sports particularly if they had equal day. If CBs who at present own CRFC move elsewhere as I see it CAC would be left with no rugby team. The whole set up needs modernisation and streamlining