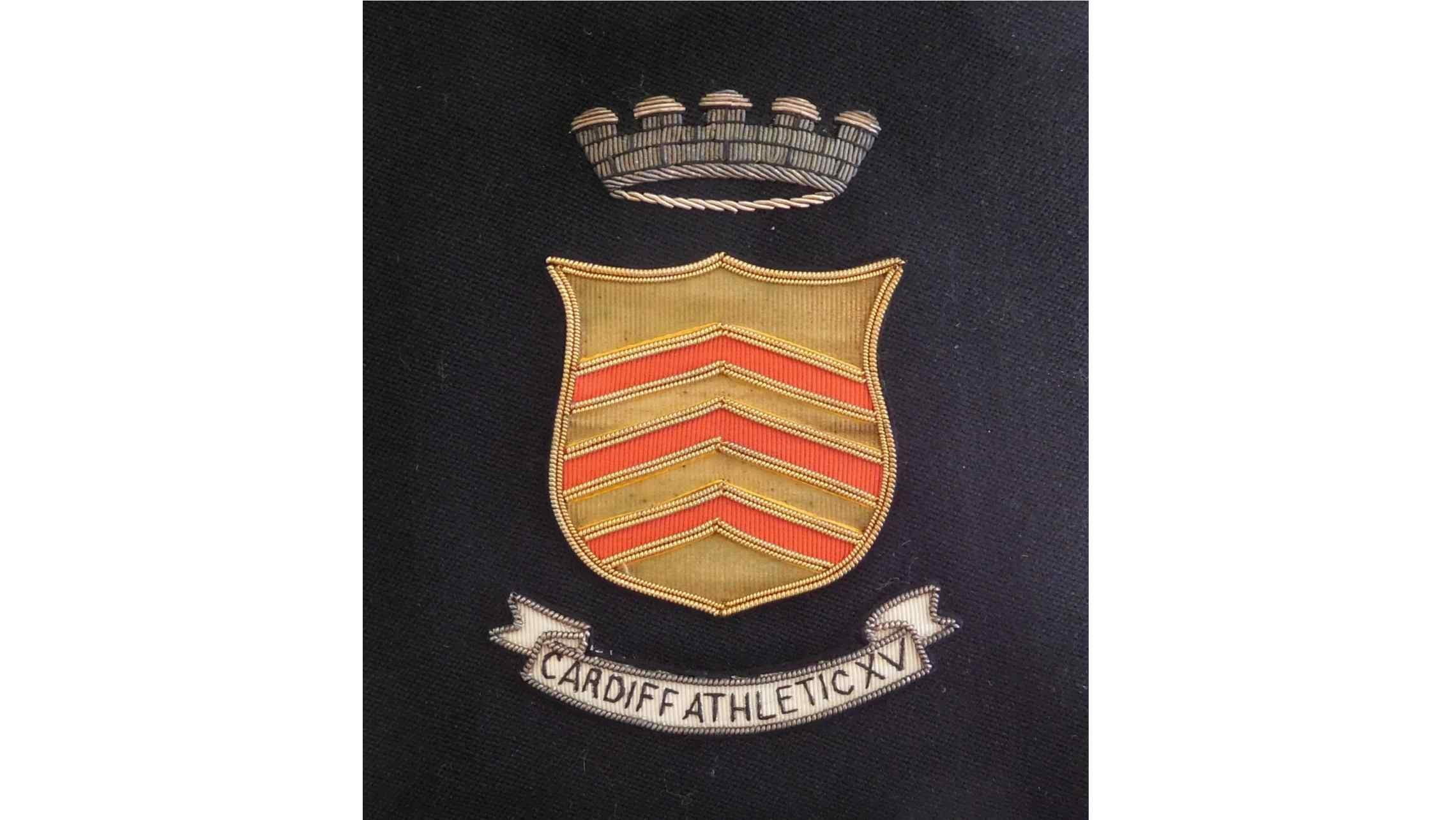 "I started in the famous Rags, the second team, in a game at Briton Ferry. Next there was a visit to the Memorial Ground to play Bristol United and finally, I shall never forget the day I achieved my ambition, to wear the Cambridge blue and black of Cardiff's first team."
- Gareth Edwards
"I used to love playing for the Rags because here was a mixture of youth players and experienced old heads…. It meant that whenever we went up the valleys to play a club that wanted our blood just because we were Cardiff, we always had a few tough nuts on our side who we could rely on to look after us if things got nasty. That gave us the confidence to go out and play. The idea was to take that confidence with you into the first team..."
- Mark Ring
Sometimes nicknames just stick. When on March 1st 2021 Cardiff Rugby Chief Executive Richard Holland referred to Cardiff's Welsh Premiership team as the Rags, he was invoking a name which has stuck to Cardiff Rugby's other team for 80 years.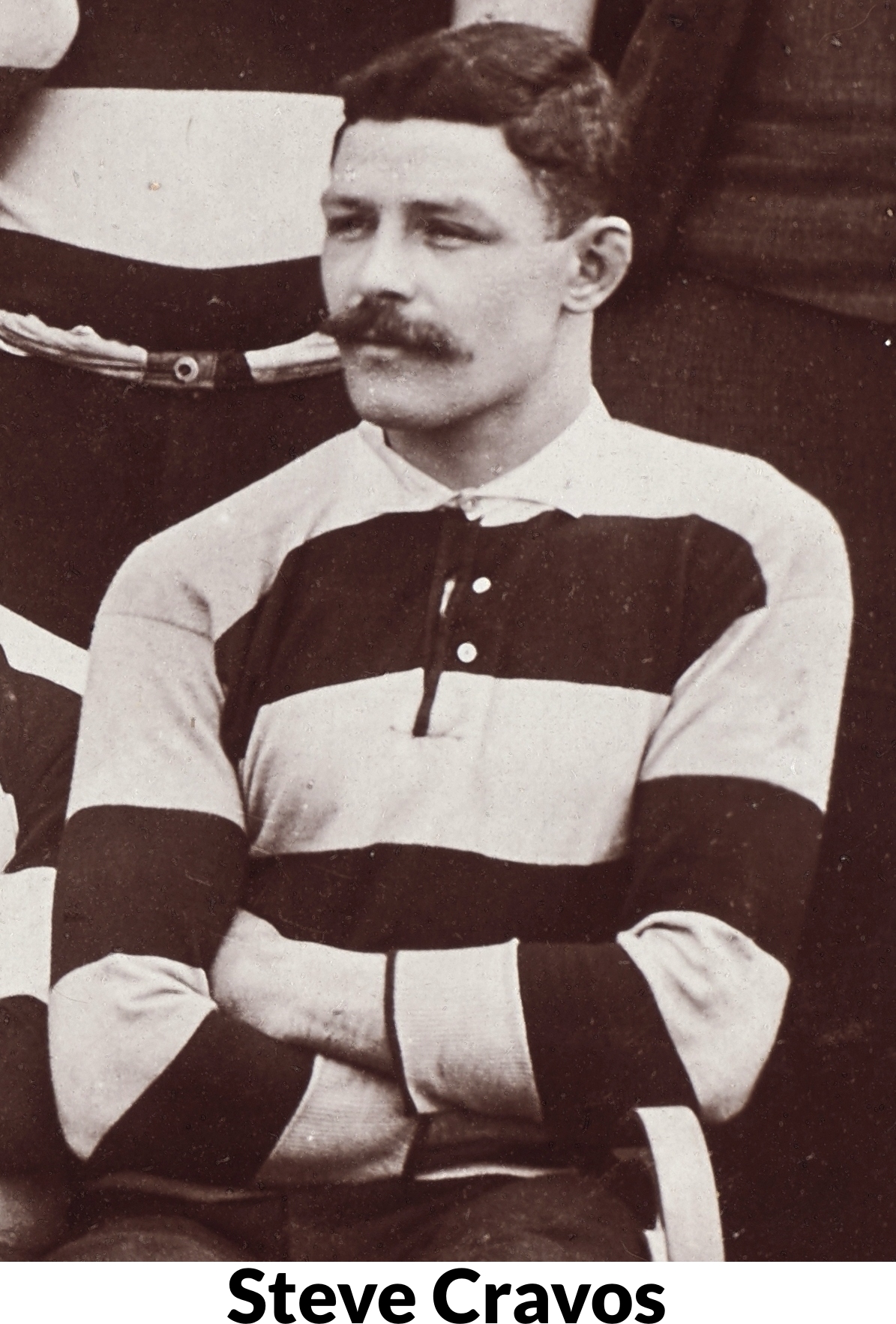 We have Syd Cravos to thank for this. Truly great clubs need their fair share of men like Syd. He was the son of Steve Cravos, who had played for Cardiff between 1886 and 1896 and shared the same style of fine moustache which makes his father stand out in team photos of the era. His brothers Frank and Victor also played for Cardiff. Originating in Trieste on the Adriatic, they were a family of characters. They were said to keep a liqueur from every nation in the world stored in the Butetown offices of their shipping firm, for the purposes of entertaining visiting ship's captains.
It was a family of men who loved good company, a good joke and Cardiff Rugby. Like his father, Syd played for the club over a hundred times. Eventually he would become chairman. When he passed away, his family had been associated with Cardiff Rugby for nearly a century. But more than anything, he was a man who represented and captained The Rags. Fitting then, that it was Syd who was credited with coining their enduring nickname.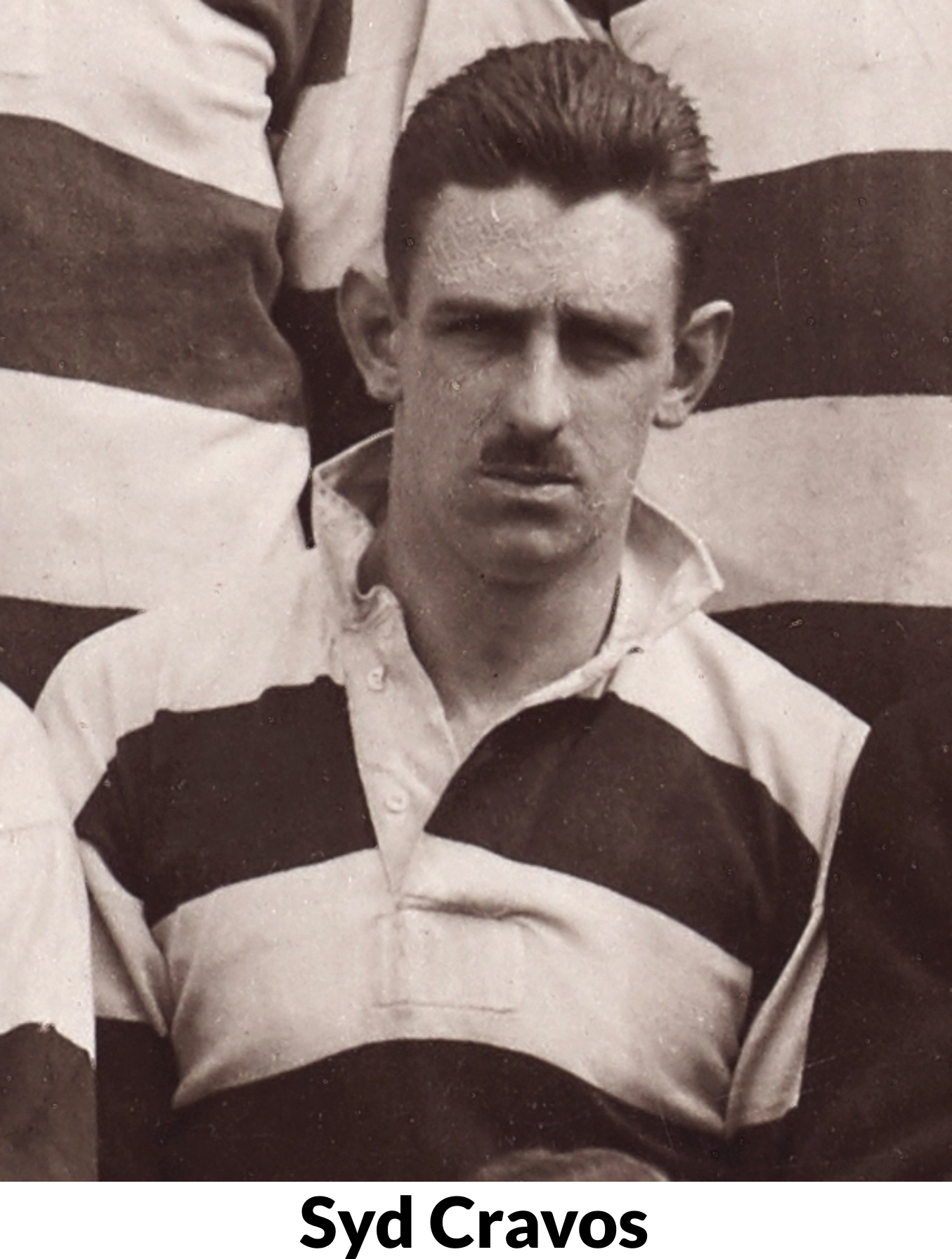 The name Rags comes from the battered, used jerseys they were given to play in. It is easy to imagine Syd, the clubhouse wit, holding court in the Pavilion that once stood at the river end, joking about the state of the kit he'd been given to play in.
But of course, the story of the other Cardiff team (it seems disrespectful to call The Rags a "second" team…) begins much earlier than the 1930s.
The first accounts we have of Cardiff's other team are from the second ever season of the club's existence. With Cardiff Rugby itself the product of a merger between two clubs (Glamorgan FC and Cardiff Wanderers, both of whom also ran Second XVs) it's little wonder that there were sufficient players for more than one XV.
The other team was officially formed in 1879 as Cardiff Seconds. In his early history of the club, CS Arthur states that by the 1882/83 season the seconds had become thought of as a nursery for the first team.
By 1884/85 the team had really started becoming a serious club side in its own right. Under the captaincy of a Mr Cholton James they didn't lose a game all season and on 1st April 1885 – to their delight – they beat the Cardiff first team.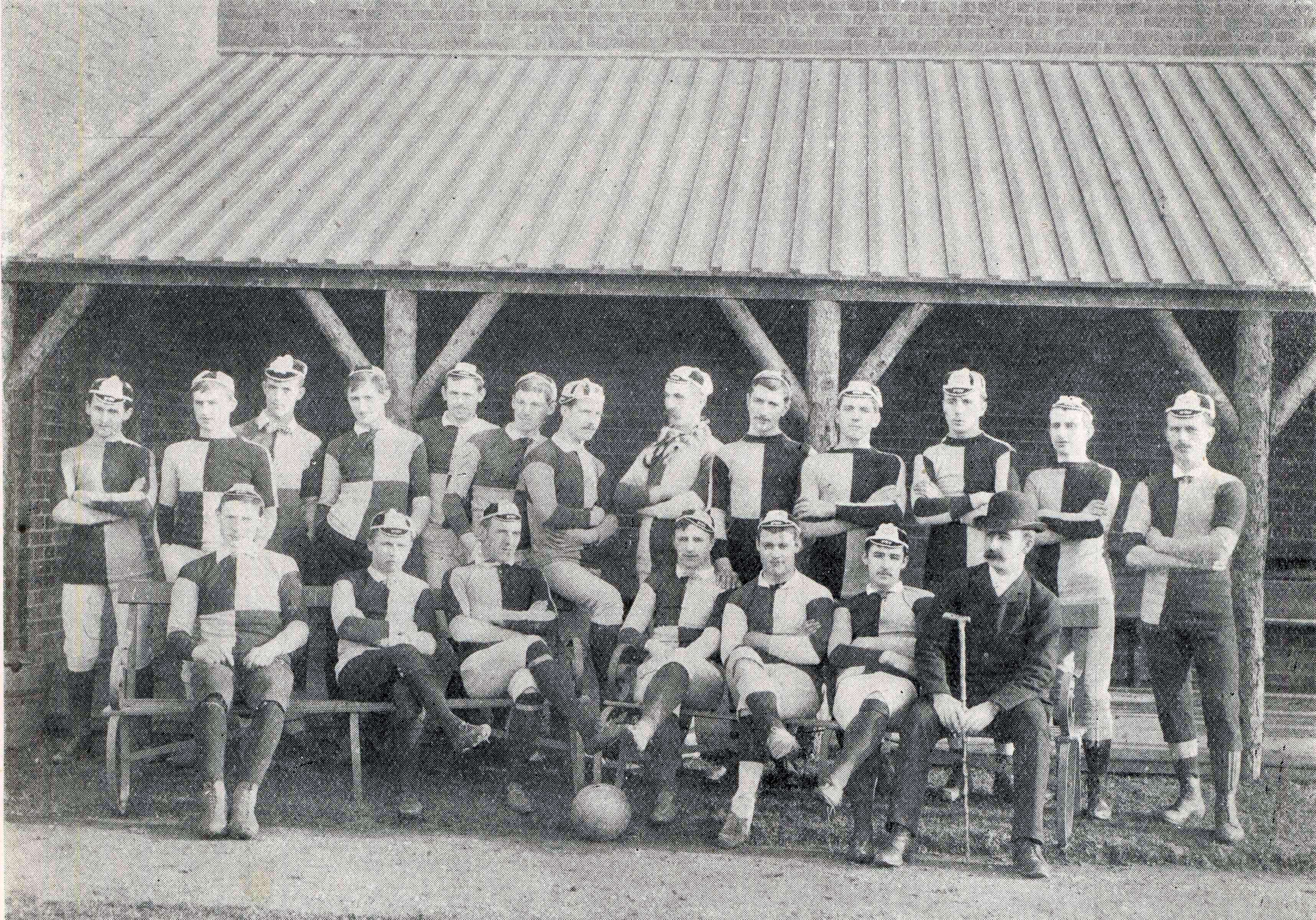 Cardiff 2nd XV 1884/85
This set the trend. Cardiff's other team wasn't simply a way for scratch teams of leftover players to get a game. It was a testing ground for promising players, an essential stepping stone before joining the Cardiff first team (what these days is called "development") and also a respected team in its own right.
They were unbeaten once again the following season, under the captaincy of Dan Jones, who remained captain for six seasons. This was the era of Frank Hancock and the evolution of the Cardiff "passing game". Just as the Cardiff first team reigned supreme, the other team's results were exceptional. Like the firsts they rarely lost and their points scoring records were consistently remarkable. In 1885/86 they swept all before them scoring 17 goals, 43 tries and only conceding 3 tries all season.
It was said that Dan Jones could easily have become a prominent first team player, but he preferred to lead the other team which by 1898 had officially adopted the name Cardiff Reserves. Big names of this golden period like Gwyn Nichols and Percy Bush all made their debuts for the Reserves.
Players could become stars whilst playing for Cardiff Reserves. In 1911, the top try scorer was Charley Bryant, who became an Ireland international even whilst remaining a Cardiff Reserves mainstay.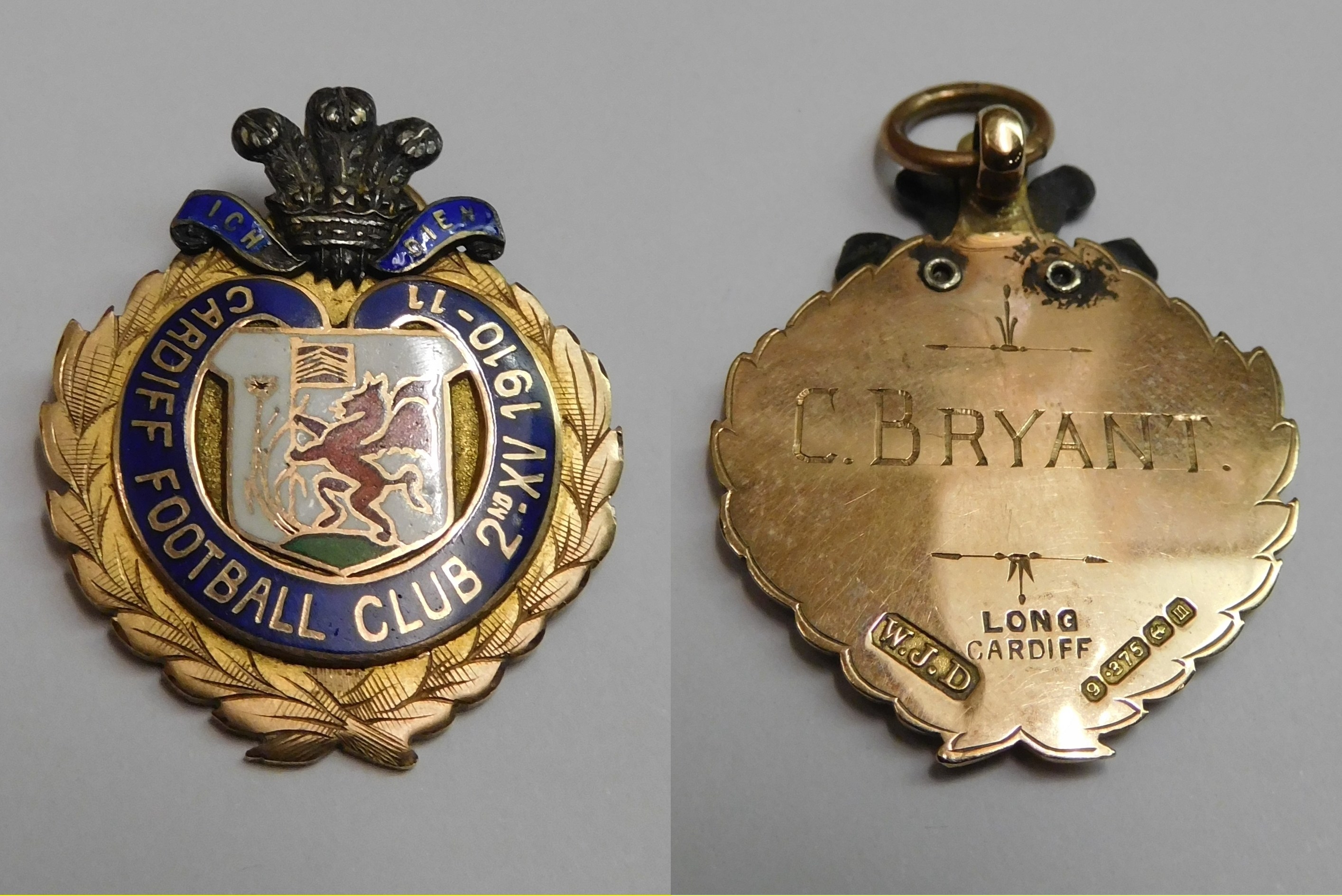 After World War 1 there was a period of rebuilding. Then as the 1920s began, cash was tight as plans to purchase Cardiff Arms Park from the Marquis of Bute were put in place. In 1922, the Easter tour which the Reserves had long enjoyed couldn't go ahead.
In 1925, Cardiff adopted a controversial – and certainly very unusual - "two first XVs" policy. There would be no Reserve team. Instead, both Cardiff teams would be branded as a first team. Naturally the smaller clubs used to only being given fixtures against the reserves enjoyed the privilege of nominally having a Cardiff first team on their fixture list. It was argued that the volume of quality players available to Cardiff made such a strange undertaking practical. But the concept only lasted five seasons of inconsistent results which harmed the club's reputation.
It was in 1931/32 that the official name of Cardiff Athletic started to be used in place of Cardiff Reserves. But thanks to Syd Cravos's inspiration, to everyone they were the Rags.
Soon after, fittingly, the great doyen of Cardiff Athletic Club Hubert Johnson took over as captain. By 1937/38 the Rags were once again invincible. The following season, Bleddyn Williams made his debut for them at the age of 16.
After the Second World War, there was once again a period of rebuilding but the importance of The Rags was quickly re-established.
Also established was the tradition of older first team players stepping into The Rags to help along the younger, up and coming players. Stan Bowes captained The Rags for several seasons as he aged. His form was such that the old warhorse was eventually called up back to the first team. Dr Jack Matthews then came out of retirement to captain the rags for several games.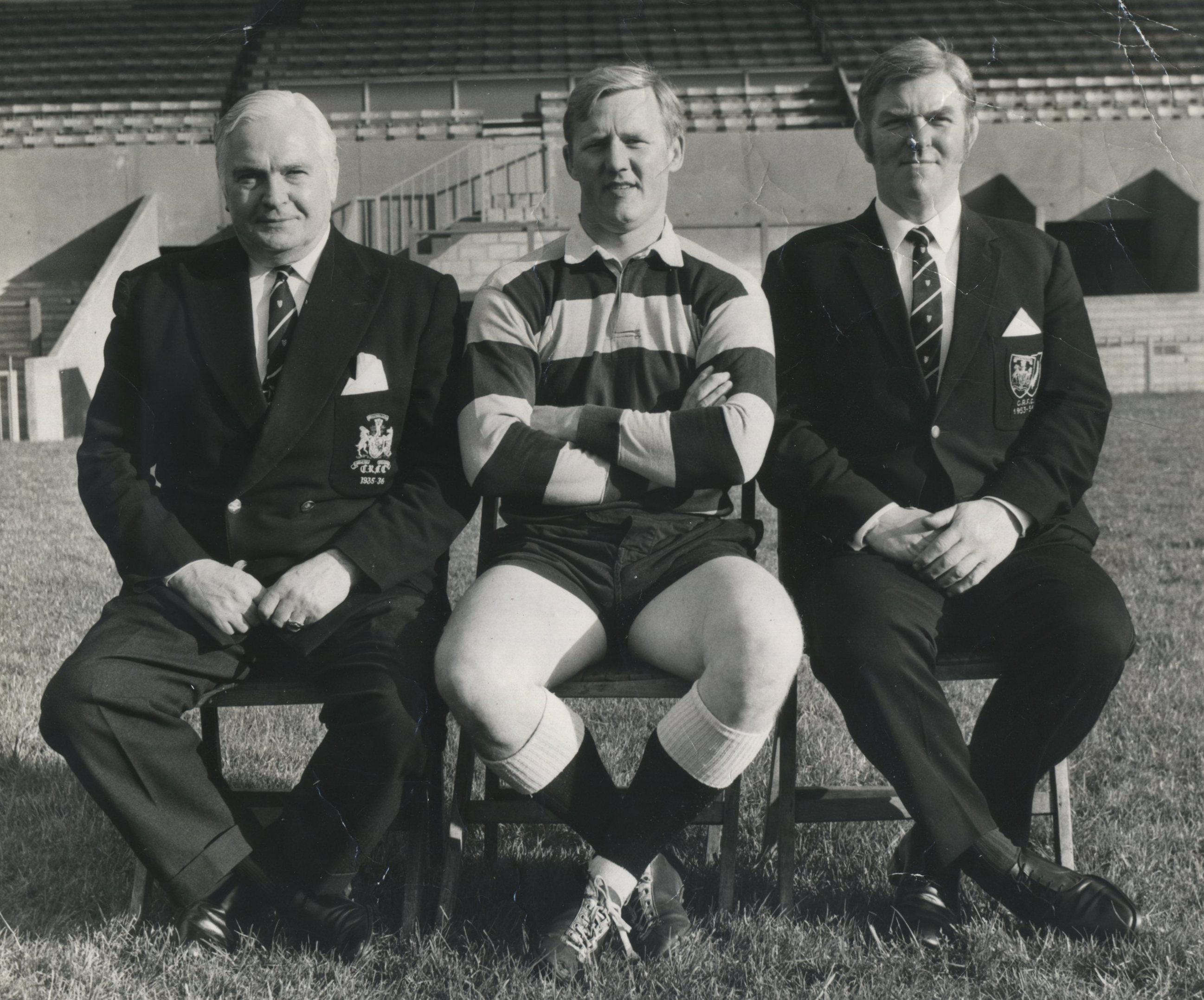 Three "Rags" Captains - Hubert Johnson, Jack Davies and Stan Bowes
By the time they celebrated their own centenary year in 1979/80, The Rags were not only treasured as a Cardiff institution, but well known by players from other areas as a valuable route into elite rugby. Gerald Davies cited the existence of the Rags as a major reason why he felt he was better off trying to advance his career at Cardiff than at any other club.
"With Cardiff, blessed as they are with a second string XV, the Rags, you could always be sure that if you did not get into the first XV a watchful eye could be kept on you and this would allow for continuity and progression."
In Mark Ring's autobiography "Ringmaster" the value of the team in the 1980s is explained in detail:
"The Rags was the perfect place to start a rugby career…. You had older seasoned stalwarts on their way down from the top of the game mixed with youngsters trying to make their way up. Older heads like Ian Robinson… and captain Terry Charles were the kind of people who had a huge influence on me."
By that time, selection for The Rags came via a series of intense trial matches at Sophia Gardens. Ring himself played his way into the Rags side in one of these games. Alongside him was an unknown dreadlocked winger from Butetown who notched up a hat-trick – Gerald Cordle. Cordle was an example of a player who had not been spotted at Youth team level, but could still find a way into elite rugby via The Rags.
Rugby of course changed quickly as the 1990s progressed. The 1995/96 Season Report noted, "Early in the season a longstanding tradition came to an end with the abolition of the "Rags". It had been decided that the club needed to focus its resources on a smaller, elite first team squad.
But you can't keep a good team down. Six years later, in the early 2000s, it was realised that clubs needed a system for nurturing young talent (relearning a lesson first understood in the late 19th century...) and a Cardiff Under 21 team was formed. Naturally, this team became known unofficially as The Rags. When in 2003 the Cardiff first team was rebranded as Cardiff Blues, the Cardiff Under 21 team formed the basis of the team branded Cardiff RFC which was to play in the Welsh Premiership.
Once again, the Cardiff club was running two teams both branded as a first team. And once again the situation never quite pleased anybody. Inevitably, even though it was never an "official" nickname, many always referred to the Premiership team as The Rags.
Fittingly, given the unique history of the Rags, the Cardiff Premiership team has been supported and managed by a group of committed Cardiff Rugby lovers, giving up their time on a volunteer basis. No one more than they deserved to enjoy the Welsh Premiership title in 2009 and the cup win in 2019.
The Rags were on course for a potential league and cup double in the 2019/20 season. Then the pandemic happened.
It isn't confirmed when rugby at Welsh Premiership level will begin again. But it is clear that a period of rebuilding, much like the periods after the two world wars, will be necessary.
It is also clear that with the team becoming integrated with the professional arm of the Cardiff Rugby organisation, the Rags will yet again be reinventing themselves.
Cardiff Rugby academy manager Gruff Rees, himself a former Rags player, has spoken about how much he is looking forward to these changes. It seems likely that we will again see a team of hugely promising young players taking the field supported by a few old heads. A nursery for the first team, but also a respected team in their own right. Same as it ever was.
Syd Cravos would approve.
Images courtesy of the Cardiff Rugby Museum
Steve Coombs, 27th Apr 2021
Get Involved
If you liked this piece and want to contribute to the independent voice of Cardiff rugby then you can join us here. As a member led organisation we want to hear from you about the issues you want us to raise.