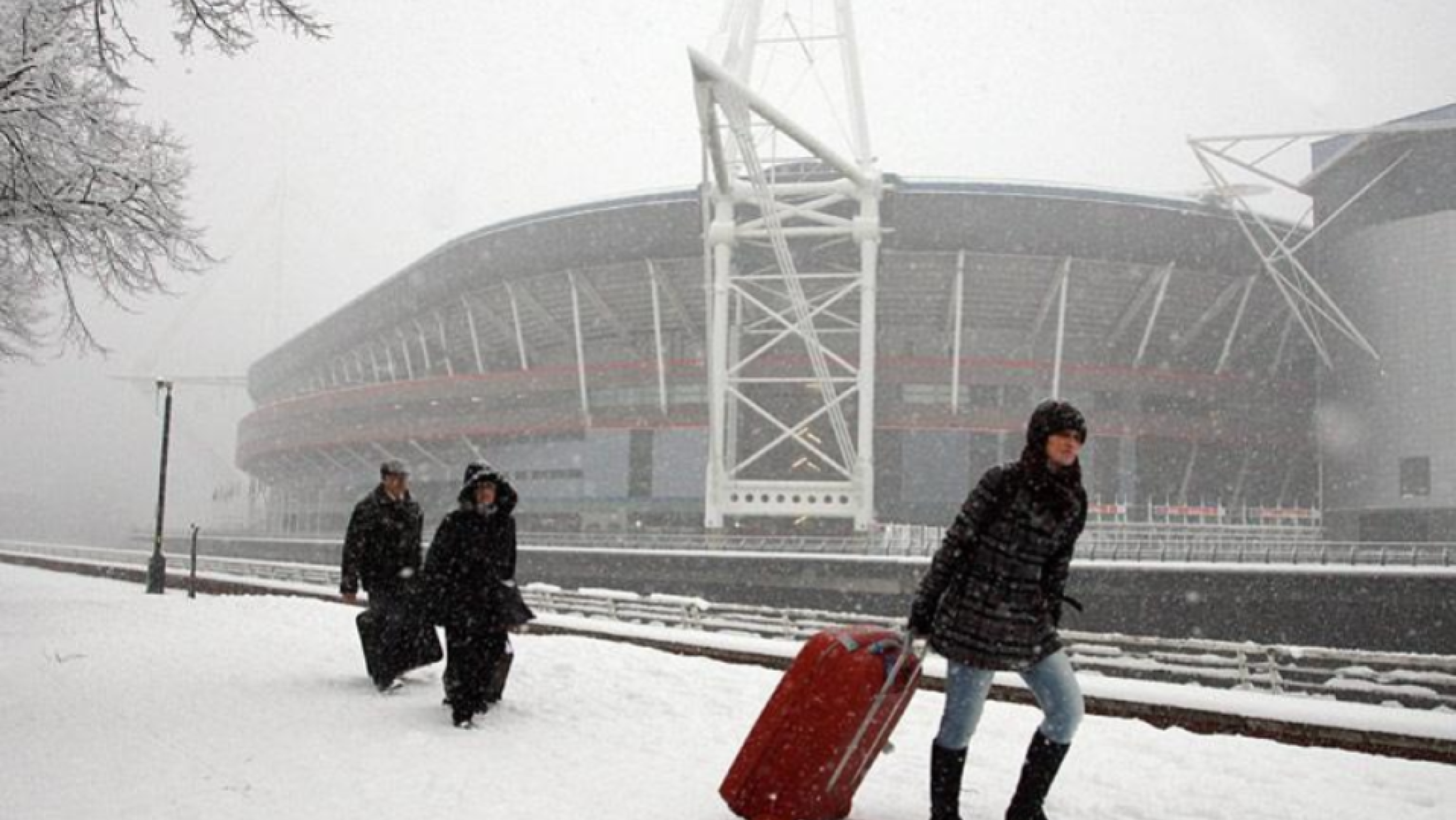 Chapter 1
The old Benefactor Era was dead. Of that, there could be no doubt. The Western Mail reported, the BBC explained it and social media went into meltdown debating it. The Benefactor Era was dead. As dead as a doornail.
Ebenezer Phillips growled as he entered his office in the Principality Stadium, on a grey, cold Christmas Eve. The heavy door creaked as it opened. 'If only I knew a place that sold WD 40' he thought.
He slunk into his chair, looked at the cracked walls from where portraits of the giants of Welsh rugby administration glared down at him. Ray Williams, Tasker Watkins, David Pickering, Vernon Pugh, Glanmor Griff .... 'Hang on,' blustered old Ebenezer, 'Pickering? Bloody Christmas parties messing around in my office' He let out a miserly, 'Bah! Humbug' just as the faint aroma of a Chinese takeaway reached his flaring nostrils
"SCRATCHITT" he bellowed into the spider webbed darkness. He heard the strides of his secretary run toward him. At his door appeared an affable 6ft 5inch giant, smiling from ear to ear.
"Yes Mr Phillips? You called?"
"Take this down Scratchitt," Ebenezer cleared his throat and started dictating, "Mr Parfitt, it has come to my attention that certain reporters are using geographical locations as the prefix for the affinitised local teams. As you recall any geographical reference to place imagined or real is banned under WRU Total Futures memo 101. Any reporter who uses a geographical prefix is to be boiled with his own pudding and buried with a stake of holly through his heart. Given our agreement we expect this to cease. Make it happen"
"But Mr Phillips it is Christmas"
"Christmas? Christmas? If there is one thing worse than Christmas, it's the name of a town or city in a sports team's name. Bah! Humbug"
As day turned to evening, Ebenezer left the office and made his way home. Through crowded Cardiff streets he passed. Groups of people talking merrily of their Boxing Day plans - watching Cardiff City, Cardiff Devils, Cardiff Chiefs, going to the ballet, taking the children ice skating, winter wonderlands, going to the cinema, theatre, a thousand different things. "They should be watching one of their teams" Phillips moaned, "I heard the cry for affinity. I delivered."
As Ebenezer reached his street, the sounds of festive cheer had long since disappeared, he reached his front door and was amazed to see the knocker was not its usual faux Georgian lion but had the look of Roger Lewis. "Phillipssssss" the face hissed, as if auditioning for the part of Kaa. "Phillipssssss". Ebenezer froze, he was struck by the thought the DIY sector really had upped its Doors and Windows offering in recent years. "Bah! Humbug" he muttered.
After a frugal supper of a just-past best before Peter's pasty, Ebenezer settled down in front of his laptop and his emails. Suddenly darkness and the strange quiet, like one that follows a power cut, landed in the room. Moments later, "Philipssssss" and the sound of a saw being sharpened filled the air.
Into the room glided a Ghost, immaculately dressed, accompanied by a DJ Spoony set and light show not seen since 2015. The Ghost wore a necklace of saws around the body. Roger bloody Lewis! Ebenezer Phillips dropped to his knees "Roger? I didn't know you were dead"
"Dead?" replied Lewis "I am not dead, but Barry International Airport is near enough I suppose"
"Why are you here Roger? It's a bit late isn't it?"
"To warn you not to follow my example"
"What do you mean, you are a legend in sports administration. You are the man who invented the Wales Today soundbite and started the whole only Team in town is Wales thing, not to mention non-geographical names professional game"
"And sporting kind should have been my business" screeched a clearly dramatic Lewis as saws clanked and clunked rhythmically to Spoony's House of Groove. "These saws are my legacy, I would have preferred an EMI LP or a Classic FM CD. Tonight, you will have 3 visitations and I heed you to listen and act, to sign or die, as I used to say"
Lewis receded from the room; saws, Spoony and soundbite all fading back into the black. "Bah! I am busy Roger, really busy, Roger, Roger, Rooooooger?" Ebenezer, baffled and hoarse slumped to his chair and decided an underdone piece of potato in his pasty was the reason for that episode and decided to go to bed.

Chapter 2
At 1am a huge bright light shone into Ebenezer's room. He shuffled in his bed, "damned Christmas lights" he muffled.
"No. I am the Ghost of Rugby Seasons Past". A broad Cardiff accent as thick as a Taff mud bank "Wake up mun, we are going on a journey".
"Who the hell are you?" demanded Ebenezer
"David Bishop, Pontypool's legendary scrum half and no I am not dead. Since Real Radio stopped their sports phone in, me and Leighton James got into this ghosting gig. He is with Chris Coleman as it goes. Anyway enough chat, we have places to go"
"Where?" asked Ebenezer clearly still blaming the Peter's Pasty
"Pontypool Park 1984, Tuesday night, training. We need to be quick as there will be thousands there". In the blink of an eye Ebenezer and the Ghost were in the stand at Pontypool Park watching 30/40 men training.
"Where are the crowds?" asked Ebenezer
"Um, they must be held up in traffic" said a clearly bemused Ghost
"All of them?"
"Look, when we trained they came flooding down from everywhere. Thousands of them. We had bigger crowds watching us train than Gwent have watching them play" countered the ghost, "Especially if we had a big game on the weekend, like Coventry, Rosslyn Park or Tredegar"
"Right" said a confused Ebenezer "I think I have seen enough"
"Yeah fair enough I will take you back now" said the Ghost still looking for a traffic jam that wasn't there.

Chapter 3
At 2am, Ebenezer was awoken by the shrill sound of disappointment, several thousand voices all mouthing dismay and disappointment coming from his living room. He staggered to the door, opened it and found himself on the North Terrace at the Arms Park just as the final whistle had blown. He looked at the scoreboard, Cardiff Blues 14 Saracens 26. Streams of supporters walked past him, head down with dark mutterings of strangely off-key refereeing performances but just how good Gareth Anscombe was.
Suddenly from the top of the hospitality box a loud cry of "Phillips". Ebenezer looked up, there smiling at him with a grin as broad as Cardiff Bay was a ghost who looked like a lot like a well-known ex-Wales captain, recently retired. Almost sensing the next question as well as he sensed which ruck to compete at, he shouted, "No, not dead, just retired. Temporary job, whilst the media one comes through, Ghost of this Rugby Season. Derwyn said I would be great as my shadow is looming quite large over the season already! Anyway, let us crack on, shall we?"
"Where are we going?" asked a clearly bemused Phillips
"Nowhere, we are already here" smiled the ever-affable Ghost, "you see the whole point is to highlight how competitive Cardiff Blues, Scarlets, Ospreys and Dragons would be if you just trusted them a little more, allowed them to make decisions affecting them and to call themselves whatever it is to maximise their revenue. Here, have this drink"
"What is it?" suspicion all too evident in the query.
"The milk of rugby kindness" replied a beaming Ghost.
"Oh, that tastes different. Now this trust thing. Really? That sounds convoluted" retorted Ebenezer. "Central control with oodles and oodles of affinity being farmed out from next door, everyone looking to the Wales team for their sporting needs. The most successful teams in the world have central control don't they. Look at New Zealand, Ireland, the national team drives the game forward there. We need to do this. For Wales."
"Yes, you can copy what others are doing, easy to do and in all probability a level of success may follow" explained the Ghost. "But do you remember when Wales led the way, the coaching revolution? Do you remember when rugby in Wales wasn't just about the Wales team? When Cardiff, Llanelli, Swansea, Newport took on the best and beat the best? Over the years these soaring heights were real peaks, only scalable every so often.
Rugby is a hugely complex machine, it cannot be boiled down to an increasing number of Saturdays when international games take place. No one is denying their importance or the way they can inspire, but to do all that whilst having a foot on the windpipe is massively counter-intuitive"
"Go on" said Ebenezer
"By only concentrating on the very top of the mountain, you miss the view on the way up. The key thing is when we climb a mountain, we should be free to choose the route, the kit and which mountain to climb. Now I have to go, have been asked to speak to Charlo about how to say 'Cardiff'".
"No wait, I am interested …. plus that milk drink is awesome, we could sell that in the stadium". His words faded into the darkness.

Chapter 4
At 3am Ebenezer was awoken by a shadowy figure in his bedroom doorway. The Ghost of Rugby Seasons to come. This was a large shadowy figure whose features were hidden by a huge Welsh flag and a cowboy hat. The figure did not speak, he merely pointed to the window, whilst drinking a pint of Carling in a plastic 'glass'. Ebenezer shuffled to the window.
In a blink he was in the middle of Westgate Street on match day. He could make out from the street vendors that Wales were playing New Zealand. Crowds hurried all around them, heads down. As the pair walked down the street, Ebenezer noticed a stall with a banner which read "Learn the Anthem here"; a little further down the street he stopped near two supporters in animated conversation.
"Who does he play for?"
"The Blue Dragons, saw them play Leinster a few seasons back at the Trago Mills Arena in Merthyr. The empty seats were in the valleys"
Ebenezer looked on quizzically, "Who are they talking about

"Yeah. Nah, Blue Dragons definitely, he is rubbish, they are rubbish, couldn't get out of the Challenge Cup group with teams from Russia, Germany and Andorra. It would be bad if I cared. Thank God for Wales … who are we playing today again?"
"Oh really, I thought he played for Scarlet Ospreys. Pint?"ghost?" The ghost took another glug of Carling. A little later he heard two supporters talk about how they didn't recognise half the Welsh team and the other half play in England or France ("I hope the WRU fund the 7 Euro visa cost"). Again, Ebenezer looked at the by now quite drunk Ghost who was quaffing a hot dog as well as carrying four pints of Carling and went to ask a question but realised there was more sense in triangulation of prune juicing theorem.
Ebenezer took the smirking Ghost by the scruff and shouted, "What is this hell Ghost?"
The Ghost straightened "This is exactly what happens when you remove any history from the game, allow heritage to be sold for promise. This is what happens when Wales becomes the only canoe on the river. Supporters once knowledgeable now attend as theatre goers, this is what happens when the race for homogeneity replaces striving for individuality. This is what Sam told you. This is on you Ebenezer …".
Like an arrow's truest shot, Ebenezer replied, "Yes I see it Ghost, there is time, I have time, a change can be made. Hope lies with independent professional teams, I will set them free, give them the tools to carry on their job – by jove I know a place that can provide a job-lot. Self-entitlement has no place, change should be made for right reasons not easy ones. It is Christmas so I will trust a little more, fund a little higher and see if professionalism and rugby can win together ….".
The Ghost listening intently, went pale and then just said, "Tidy" before pushing past an indifferent row of spectators doing a Mexican wave while on the way to the bar.

Chapter 5
Phillips woke with a start. Was it a dream, or nightmare? The final vision of a cold uncaring Westgate Street, devoid of colour, energy, awareness or knowledge would not happen. A steely resolve calcified, and the decision was made. "I will keep rugby in my heart, I know geographical names are not an affront, the regions can call themselves whatever they want, call on any number of yesterdays they wish, they must be allowed to compete …. I only have one condition; whoever put a photo of Pickering on my wall must get a Dragons season ticket!"
Scary eh?
Nadolig Llawen a blwddyn newydd dda!
CF10 Rugby Trust, 18th Dec 2018
Get Involved
If you liked this piece and want to contribute to the independent voice of Cardiff rugby then you can join us here. As a member led organisation we want to hear from you about the issues you want us to raise.