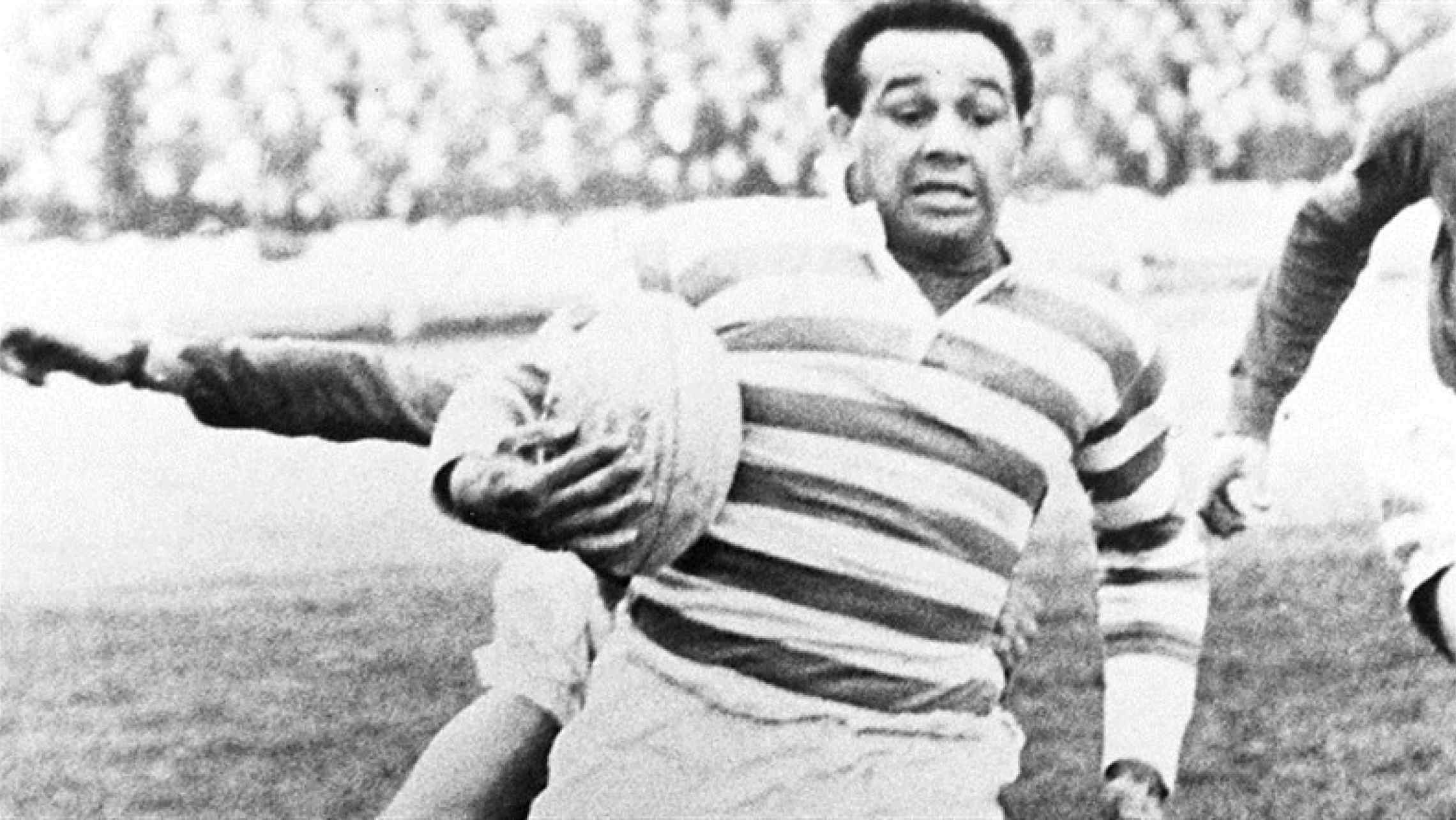 On 25th February 1895, 5000 people crammed into Bradford's Park Avenue ground to watch the home team take on Cardiff.
South Wales and the North of England were the industrial heartlands of 19th century Britain. And, rugby football was growing in both areas. Not only did young men want to play the game, people would pay to watch them.
Cardiff won 7-0, through a Rees dropped goal and an Elliot try. The Leeds Daily News conceded that Cardiff "were immeasurably the superior team". "Cardiff were the smarter team and deserved to win." said The Yorkshire Evening Post. The South Wales Daily News called it "A Meritorious Performance", and pointed out that the Cardiff team selected was actually a little weaker than usual.
It wasn't the first time Cardiff had made such a trip. And, Northern English clubs like Wakefield Trinity and Swinton had been returning the favour and touring south Wales for several years.
It seemed certain that as the years went by, more and more clashes between the big clubs of south Wales and the north of England would be inevitable.
And, so it proved. 58 years later a crowd of almost 90,000 crammed themselves into Wembley Stadium to watch Cardiff play Bradford Northern in the British Challenge Cup Final. It was far from the first time Cardiff had appeared in the final. In fact to this day, only Wigan have come close to having won the cup as many times as the men from Cardiff Arms Park.
The Cardiff team taking the field that day in 1953 was one of the greatest in the history of not only that great club, but in the history of rugby football. Cliff Morgan was of course at 10, with Bleddyn Williams and Dr Jack in the centre. On the wing was the new sensation, Billy Boston. At fullback, the wily old Gus Risman was still there to keep an eye on the younger men. All was overseen by wise old Jim Sullivan, that great icon of Cardiff rugby, as coach.
The names of all those Cardiff heroes echo down the decades and trip easily off the tongue of any Cardiffian sports fan.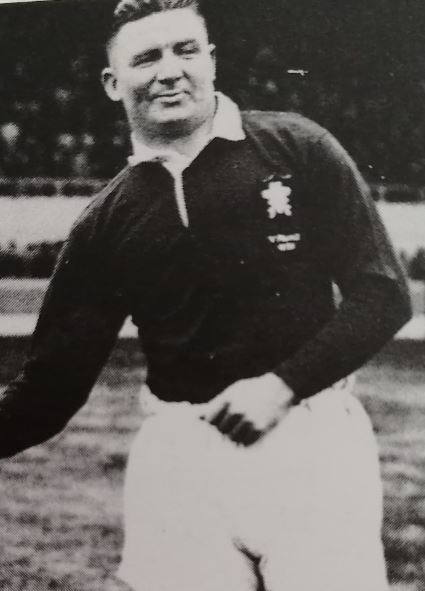 Ok…. So, one of the preceding two paragraphs is fictional. No prizes for guessing which. Cardiff never played in a British Challenge Cup. Jim Sullivan left Cardiff at 17 and spent his career with Wigan and St Helens. Gus Risman and Billy Boston never played for their hometown. History took a different turn and these men went on to become legends in Lancashire and Yorkshire.
It is true that for a while, in the 19th century, Cardiff had regular fixtures with clubs in the north of England. And it really did seem likely that it was a relationship that would keep blossoming. But only a few months after that 7-0 Cardiff victory at Bradford in 1895, everything changed.
At a meeting at the George Hotel in Huddersfield, Bradford and a group of other northern English rugby clubs left the Rugby football union. To rugby league fans, that meeting in Huddersfield is an event equivalent to the signing of the Magna Carta.
They broke away and formed the Northern Union, over the issue of "broken time" payments to players. In the rest of England, Wales, Scotland and Ireland, professionalism became a dirty word. Amateurism became a mark of either righteousness or pomposity, depending on your point of view.
The fixtures against north of England clubs that had begun populating the Cardiff fixture list promptly dried up. Those great clubs of Lancashire and Yorkshire became off field enemies, instead of on field rivals. Clubs from a rival code that would tempt players to go north, and leave Cardiff and Welsh rugby behind. That's how things remained for a century, until Rugby Union finally allowed open payments to players.
But, let's imagine for a minute, that something else happened….
The Gould affair of 1896-8 ostracised Welsh rugby from the rest of the rugby union world. Welsh rugby was close to fully embracing professionalism until the RFU decided to compromise and keep Wales in the fold. But what if the RFU were in no mood to compromise in 1898? What if they were arrogant enough to think that even if they lost south Wales, the west of England, Scotland and Ireland would never have followed?
Wales, and perhaps then most of the rugby world, would have gone openly professional in the 1890s. It would have begun with the South Wales' first class clubs forming a league, and perhaps entering a cup competition with the North of England clubs. Soon that league would have embraced the West of England, then the rest of England. The wider rugby world would have begun turning away from the RFU's war on professional rugby and voting with their feet.
How might Cardiff rugby history have looked then?
Would we have become a rugby league club?
Well, firstly, there would have been no such thing as "rugby league" and "rugby union". The RFU may have continued as a separate enterprise. A game played only by the most exclusive of private schools and old boys clubs. But whatever game they'd chosen to play would have been as relevant to the wider world as the Eton wall game.
The new professional union would simply have been playing a game called rugby football, with no need to distinguish it from whatever the RFU called their minority sport.
Would we have embraced all the law changes that rugby league has since adopted? Impossible to say for certain. With a much larger group of clubs and nations involved, there's no guarantee the law changes the northern union decided for itself would have all been adopted. The game played today would most likely be different to both modern league and modern union.
But what we can say with certainty is that the Cardiff players that needed to make good money from the game wouldn't all have had to leave for Bradford or Swinton in order to make it.
And, with league and cup trophies at stake, other reasons for not selecting certain players would likely have been cast aside, just as they were up north.
Let's not tap dance around the fact that some of the finest players the city of Cardiff has ever produced never got to wear blue and black, and run out at the Arms Park, because of the colour of their skin. It's uncomfortable and deeply sad, but there's no sense in avoiding the conclusion that Billy Boston (like other supremely talented players) was never even asked for a trial at Cardiff, because he was black.
What a moment it would have been if, in the 1950s, the son of a Sierra Leonean sailor had run out onto the Arms Park wearing the red shirt of Wales. What a historic moment Wales as a sporting nation missed out on. And, what great moments Cardiff rugby club missed out on. What if, when we faced the All Blacks in 1953, it had been Billy Boston on the wing running onto passes from Bleddyn Williams? What might that have meant to fans from the docks on the terraces that day? What might that have done to help change attitudes toward the residents of Tiger Bay from the rest of the city? What a wonderful chapter of our history could have been written.
And, Billy Boston is just one example.
I've put together a team. A Cardiff rugby league XV. I've not included players like Terry Holmes, who had their best years in union. Nevertheless, this selection was damned hard. This XV just scratches the surface of the talent missed out on. The men on the list that follows all had different backgrounds, but all were united by being from Cardiff, or having represented Cardiff rugby club. And all left, because Cardiff rugby club, and rugby union, wasn't able to provide what they needed, in fair exchange for the skills they had.
So many more names could have made this list. I could have made you a very tasty list of Cardiffian rugby league converts just from all the wingers alone. You'd need a whole book to properly begin to honour the talent that left Cardiff to become wonderful rugby league players.
I mean this to be a celebration of the great rugby football talent Cardiff has produced. More than a few of these players are legends. Some have statues built to them. Some have streets named after them. But those statues and those streets sit many miles away from Butetown, Grangetown, Adamstown and Llandaff. This is an acknowledgement that even though we have a great history already, it could have been so much greater.
Ultimately, when players had to leave Cardiff to make money from the game, it didn't diminish them. It diminished us.
Ladies and gentlemen, the Cardiff Rugby League XV:
15. Jim Sullivan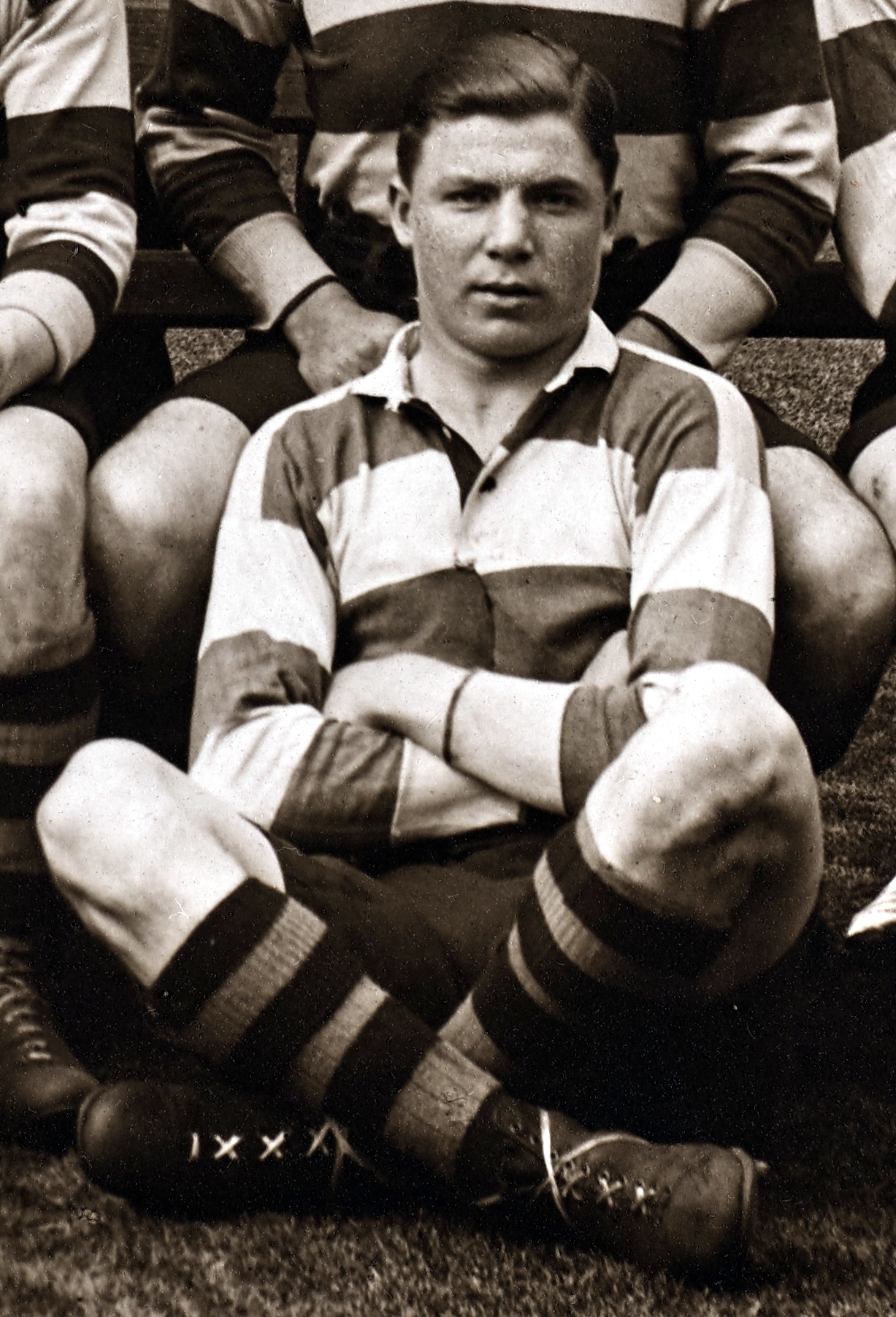 Went to St Alban's School and made his Cardiff debut at 16, in October 1920. Played for the Barbarians against Newport when he was only 17, and was still only 17 when he signed for Wigan in June 1921 for £750. Adjusted for inflation, this would be about £37,000 today.
He once kicked 22 goals in one game. He toured with the GB league team 3 times and turned down a fourth tour for personal reasons.
When he played his last game for Wigan in 1946, he had appeared 774 times, scoring 4883 points. It's unlikely that these records will ever be broken.
After retirement, he became a highly successful coach. He returned to Cardiff and passed away in his home city in 1977. An inaugural Rugby league hall of famer and by any measure, one of the finest sportsmen the city of Cardiff has produced.
14. Billy Boston
There's little more that can be said about Billy Boston that hasn't been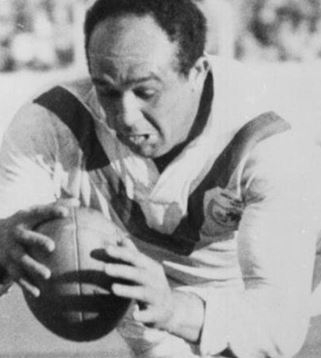 said a thousand times. Half Sierra Leonean and half Cardiff Irish. From Butetown, and to this day retaining the Kairdiff docks swagger in his accent, he's a sportsman who could only have come from Cardiff. And he has a good claim to be the greatest sportsman Cardiff has ever produced. Yet for so long was virtually unheralded at home. It is scarcely believable.
One of the greatest try scorers in the history of either code, he scored 571 times in 562 matches, the vast majority of those for Wigan. He also played 31 times for Great Britain. Another league hall of famer.
13. David Wilicombe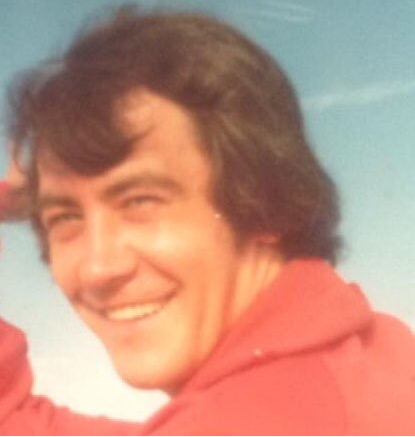 Yet another player springing from the CIACS. The legendary former Welsh Districts club that still play out on the Marl in Grangetown. Willicombe scored a hat trick on his Wigan debut, and played 119 times for them between 1974 and 1980. Capped in league by Wales and Great Britain.
12. Gus Risman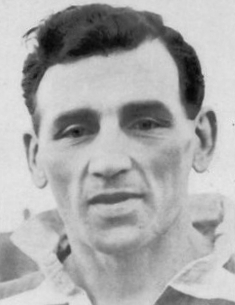 The man Bleddyn Williams called the finest player he ever played with, after lining up alongside him during the entente between league and union caused by the Second World War. Offered a trial by Salford at 18, he went on to have a 25 year career in league, finally retiring at the age of 43. At 41, he led Workington Town to the challenge cup as a player coach. Played for Wales and Great Britain, and scored over 2,000 points.
11. Clive Sullivan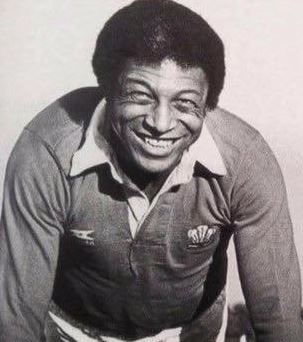 From Splott, the man who early in his teens needed operations on his knees, feet and shoulders was an unlikely candidate for a sporting career. But what a career he had. After being selected for services rugby union matches whilst in the army, he was offered a trial by Hull and dubbed "Mr X" by local press after scoring a hat trick. He turned pro the following day. He went on to play 352 times for Hull, scoring 250 tries. He later joined their rivals Hull KR. But, his place in the history books is secured by him becoming the first black captain of a British sporting side. Oh, and he was awarded an MBE. A remarkable man who lived a remarkable life.
10. Johnny Freeman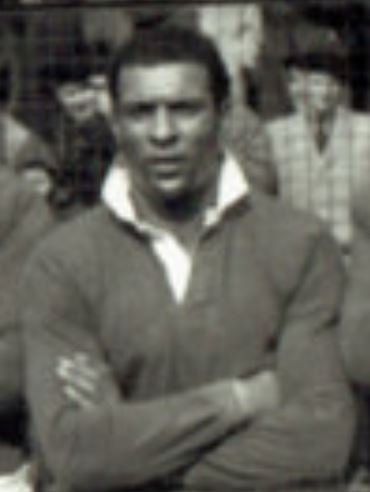 He went on to make a name for himself as a wing or centre. But, it was at 10 that he made an impression for CIACS, soon after completing his national service. During a game against Aberaman he caught the eye. The league scouts, presumably ever ready to descend on Cardiff docks whenever CIACS found a new star, moved quickly. He was picked up by Halifax and became a one club man in league, staying at Halifax for 13 seasons. He scored 290 tries in 395 matches. Another Cardiffian rugby league record unlikely to ever be equalled.
9. Eddie Caswell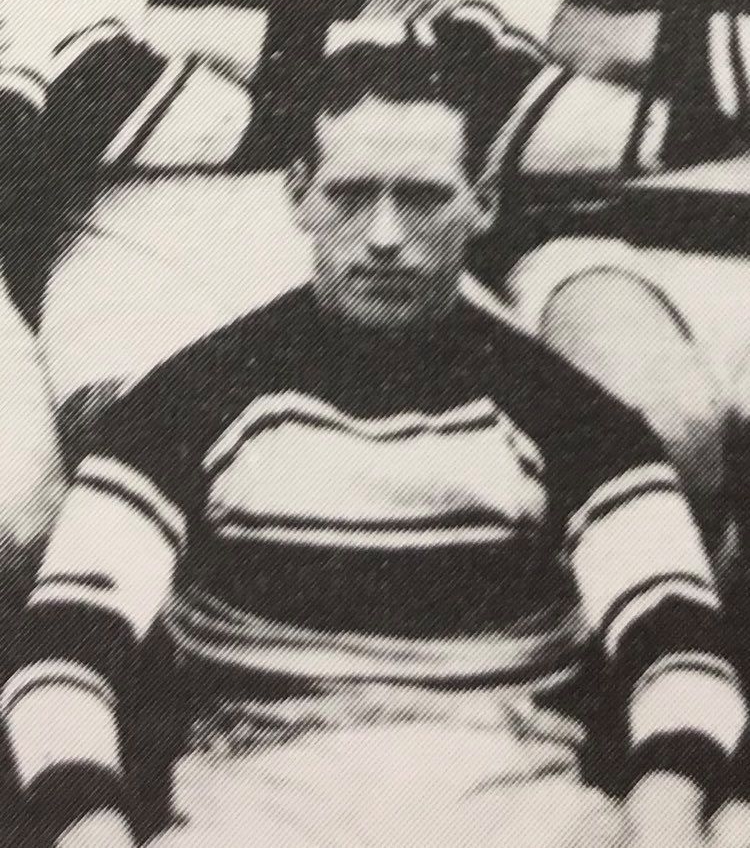 Left Cardiff in 1920 to join Hull, and would go on to play 401 matches for them. Described as "one of the brainiest scrum halves in the game" he played three times for Wales at league and became the definition of a one club man, captaining Hull for three seasons and going on to coach them from 1931 until 1946.
1. Frank Whitcombe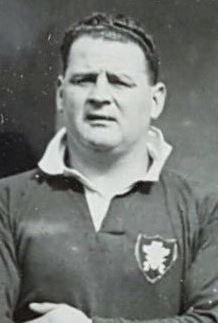 Or, "The Big Man" as he was known in rugby league. Whitcombe reputedly tipped the scales at 18 stone. From a sporting family in Grangetown, he joined the army as a teenager. Played for "the rest" against Wales in 1935 in, effectively, a Welsh trial and was seen as a likely Welsh international, but instead later that year he joined Broughton Rangers league club. The signing on fee was £100, two new suits and a job as a zoo keeper.
He later joined Bradford Northern for a record fee of £850. He played for both Wales and Great Britain, enjoying a long running feud with his off field friend and on field nemesis Arthur Clewes of Australia. After retiring he became a member of the rugby league council, but tragically died at the age of just 44 from pneumonia.
2. Bernard Gould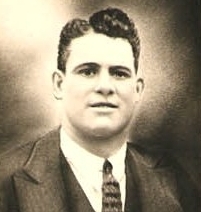 From Penarth, Gould was a prize fighter before reverting to rugby and joining Leeds. He played over a hundred times for Wakefield Trinity and represented Wales at league 3 times.
3. Tom Danter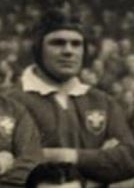 Played one game at prop for Cardiff in 1948 before going north to Hull, also playing league for Wales five times.
4. Jim Mills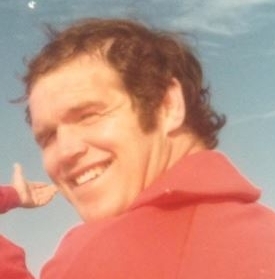 Played 16 times for Cardiff and looked set for a big future in the blue and black engine room. But Big Jim then turned to league with Halifax in 1965. Known for an enthusiastic approach toward the physical side of the game, his superb career took him to six different league teams, including North Sydney in Australia. He also represented Wales and Great Britain.
5. Frank Stephens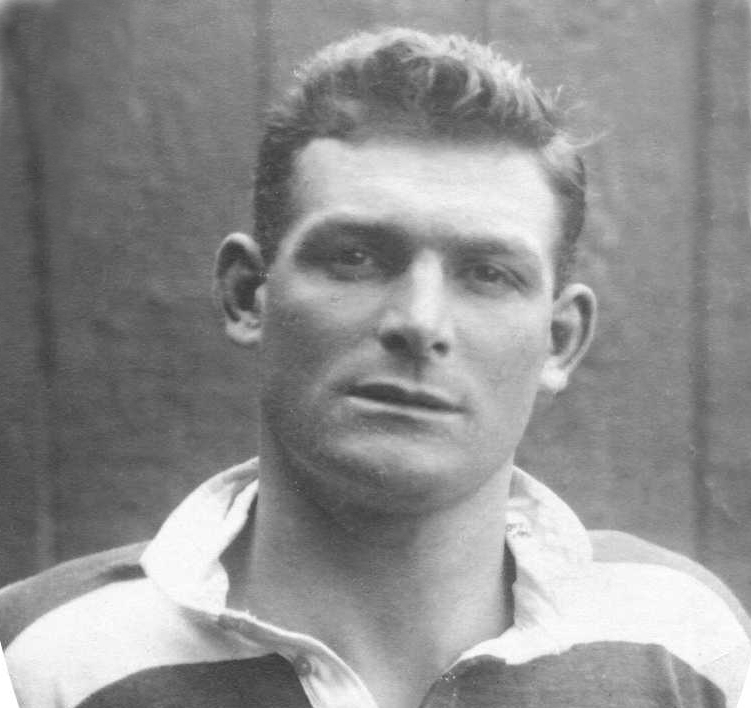 Originally from Gloucestershire, Frank played for Cardiff from 1923 to 1925, before joining Wigan, for whom he played 205 matches and also represented Wales at league.
6. Lew Rees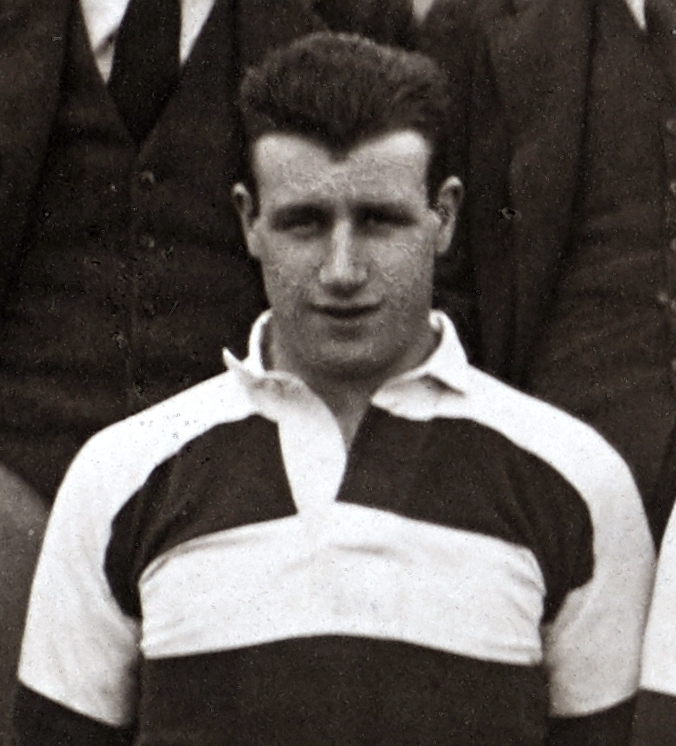 Originally from Treherbert, he played 89 times for Cardiff and won a single Welsh cap as a 21 year old in 1933. The following year he went to rugby league and played 125 times for Oldham before his career was cut short by the outbreak of the Second World War.
8. Colin Dixon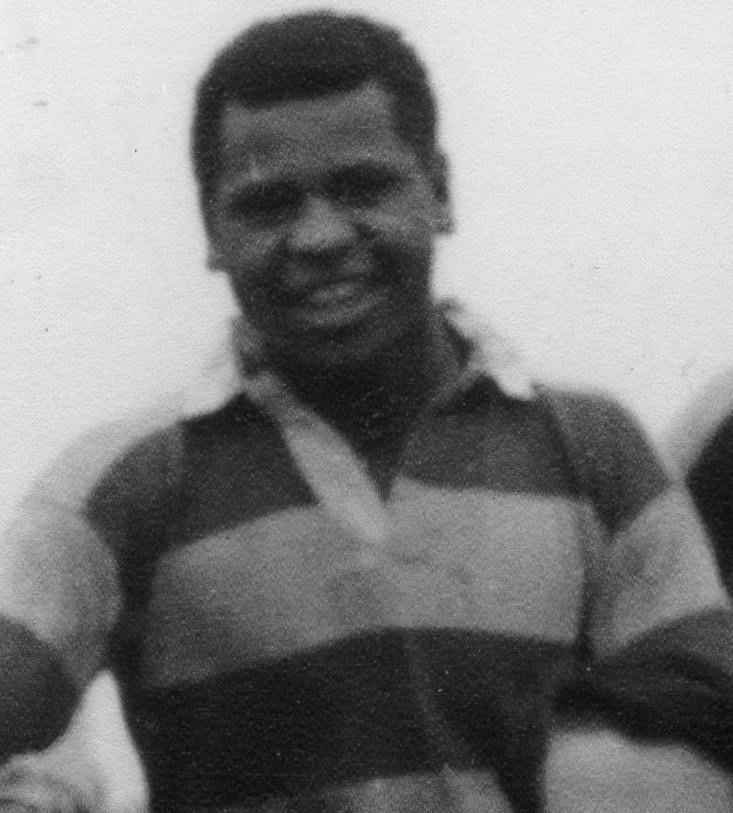 Apparently played at scrum half for Cardiff Youth, but then joined Halifax as a 17 year old centre in 1961. He later became a backrow and second row, which was when he really began to make his mark. In a career which also took in Salford and Hull KR, he accumulated 690 appearances, scoring 165 tries. He also played 14 times for Great Britain and 15 times for Wales.
7. Mark McJennett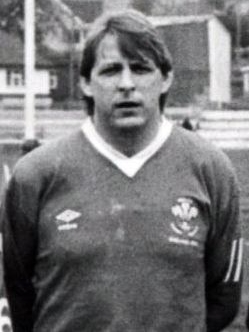 Played 81 times for Cardiff before joining Newport and then playing league for Barrow for five seasons. He became a member of Barrow's hall of fame after helping them beat Wigan to win the Lancashire cup in 1983. Another Welsh league cap.
Photographs courtesy of Wales Rugby League, Cardiff Athletic Club and Cardiff Rugby Museum.
Steve Coombs, 16th Jul 2020
Get Involved
If you liked this piece and want to contribute to the independent voice of Cardiff rugby then you can join us here. As a member led organisation we want to hear from you about the issues you want us to raise.