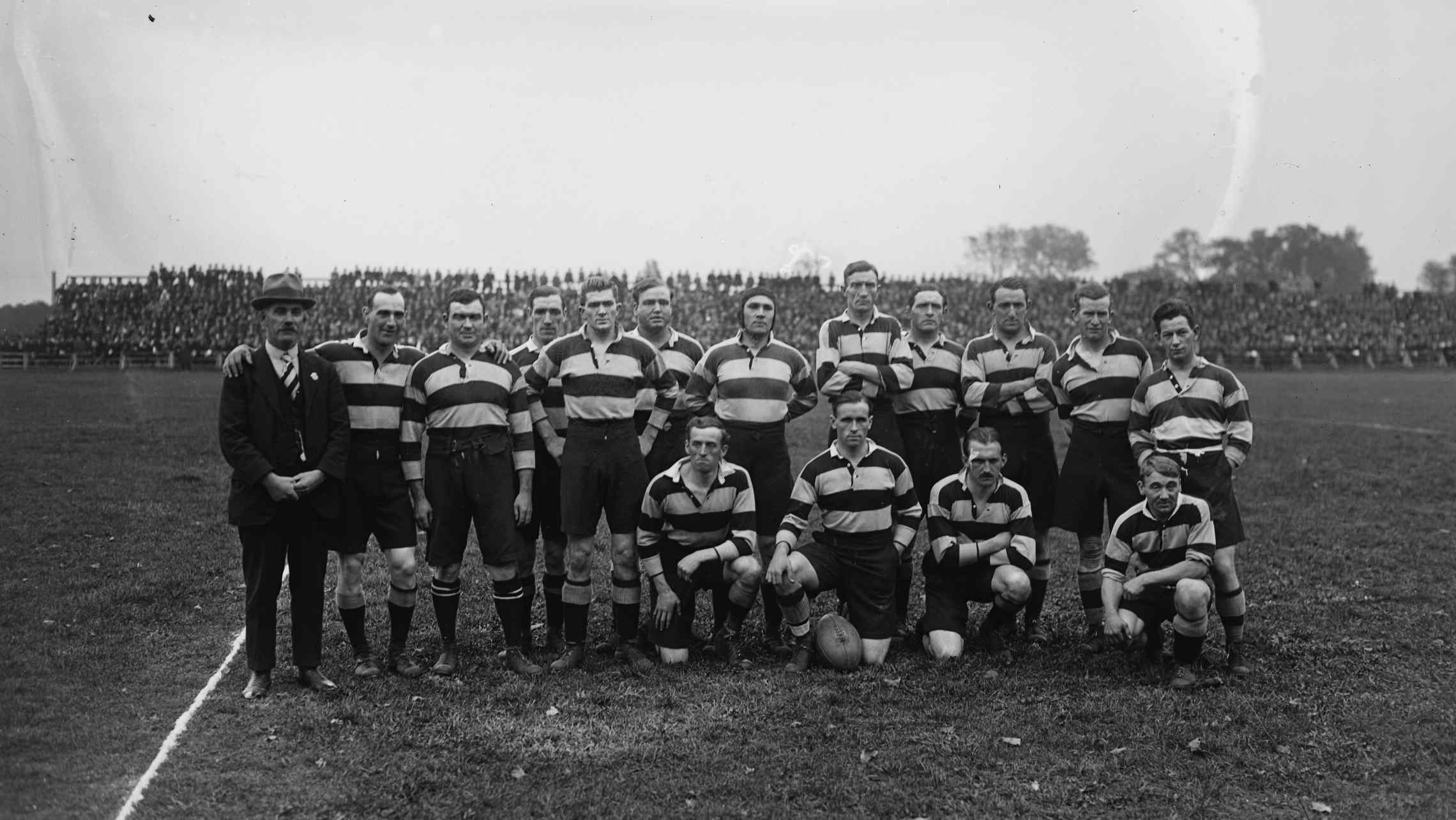 Image courtesy of gallica.bnf.fr / Bibliothèque nationale de France
Part 1 | Part 2
Second of a two part series. Read Part 1.
The Cardiff XV of the 1920s
It's part of the function of time that heroes become slowly forgotten. Memories erode. Great feats are surpassed. Players who would have been household names and beloved by the supporters who packed CAP's terraces are now largely forgotten. A necessary function of time but nonetheless tragic.
Cardiff Rugby's heroes of the 1920s, in particular, are little remembered these days. There's now no one alive who saw them play. And as they didn't carry out the great feats which make the Hancocks and Gabes immortal, their names easily become footnotes.
But, on their day, they too packed CAP. They had their great days in blue and black. They created moments that brought the Arms Park to its feet. They deserve to be remembered.
And the people who also deserve to be remembered are the fans who packed CAP throughout this troubled decade. Without their continued support in the face of such difficult times, what then would have been Cardiff Rugby's future? Without them, what would the point of purchasing the Arms Park have even been?
The club was no longer CS Arthur's club, or Frank Hancock's club, or Bill Phillips's club. But it had never been theirs to begin with. Ultimately the club belonged to the supporters. It still does.
When we stand at CAP we stand in the same muddy corner robbed from the river where the fans of the twenties marvelled at Bobby Delahey mesmerising the all blacks, cheered Codger scorching down the wing, roared on a forward charge from Bob Barrell or Ocker Burns, felt every tackle Male and Cornish put in to try and hold back the Maori and maybe forced back a tear as Clem Lewis shook off the effects of the mustard gas that nearly killed him at Passchendaele and once again pulled strings for the blue and black backs.
So, I present the Cardiff Rugby team of the twenties. Your great grandad may have shouted their names once. Let's raise a glass to them.
15. Ossie Male
Starting out in one of the finest Cross Keys XVs in the history of that club, Male joined Cardiff in 1924 and over six seasons made the fullback jersey his own. He was a noted goal kicker and an immovable object in defence. In a notable example of WRU awkwardness he was once found "guilty" of playing for Cardiff within 6 days of an international match. For this crime he was suspended. Nevertheless he played for Wales 11 times and was captain on 3 occasions.
14. Tom "Codger" Johnson
The docks boy who worked at a Marine store was tough, dedicated, brave and arguably the finest Cardiff player of his generation. Small but quick and elusive, he was top try scorer for five seasons running, played in 187 games between 1920 and 1927 and was club captain in 1924/5. He played for Wales 12 times, was captain once and also represented a combined Wales and England team in 1923.
13. Arthur Cornish
Multiple members of Grangetown's Cornish family represented Cardiff. Of all of them, Arthur was the star. With 267 appearances he was the rock the Cardiff team of the 1920s was built on. Quick and with a typical Cardiff centre's taste for throwing a dummy, he matured into a respected leader. When he passed away in 1948 he was still involved behind the scenes with a club that had been his passion. One of Cardiff's greatest clubmen he also represented Wales ten times and had to turn down a call up to the 1924 Lions tour due his duties as a schoolmaster.
12. Bernard Turnbull
As with the Cornish clan, several members of the Turnbull family would play for Cardiff but Bernard Turnbull was the standout talent. Reliable, hard running and gritty, he played for the club 232 times and won 6 Welsh caps.
11. Jack Powell
A one cap wonder at international level but an arch finisher for Cardiff. With 38 tries in 97 games, Jack Powell's strike rate was remarkable. In 1922 he would score six tries for Cardiff in four days when he scored a brace against the Barbarians on Easter Saturday then followed it up with four tries against Headingley on the Tuesday. He was the brother of Wick Powell who had also starred on the wing for Cardiff before "going north" then returning south to become landlord of the City Arms.
10. Clem Lewis
A crafty, jinking playmaker in the classic Cardiff mould, Lewis was a fixture in the famous Cardiff 10 shirt both before and after the First World War. He won 11 caps for Wales between 1911 and 1923. He also won two "blues" for Cambridge University either side of the war. In total he played for Cardiff 229 times over three decades. Even more remarkably, he had been expected to never to play again after being poisoned by mustard gas and having to spend months recuperating from the effects. A player who more than earns his place in the pantheon of Cardiff outside half greats.
9. Bobby Delahey
Often described as "unorthodox", Delahey was a skillful, intelligent scrum half, his versatility saw him also play centre and outside half over his 18 caps for Wales. He represented Cardiff 148 times and scored a memorable try against the 1924 all blacks.
1. Tom Lewis
Taffs Well born Tom Lewis was the iron man at the heart of the Cardiff pack for ten seasons after learning his trade with Pentyrch. Originally a miner he later became a policeman and represented Cardiff 260 times.
2. Ivor Thomas
Penarth policeman Ivor Thomas had a varied career at a number of different clubs but made the Cardiff hooker position his own before "going west" and heading to play his rugby in Devon where he finally secured a Welsh cap.
3. Jim "Ocker" Burns
A well known figure among the Cardiff "Little Ireland" community of Newtown, it was claimed that Ocker would have won more Welsh caps if his Irish catholic background had found more favour with the gentlemen of the Welsh Rugby Union. Scoring 19 tries in 108 matches he had a high scoring rate for a forward. He was a cousin of Peerless Jim Driscoll, the boxer whose funeral saw 100,000 people cram the streets of Cardiff.
4. Bob Barrell
Another policeman, based in Caerphilly, and another cornerstone of the Cardiff pack. The well named Officer Barrell powered the Cardiff engine room for 8 seasons and won 4 Welsh caps. In 1929 he played for a combined Wales and England team at Twickenham.
5. Idris Richards
"The Bank" as he was known, was a portly man but one whose leadership, power and singing voice made him a hugely popular Cardiff forward over 250 games for the club. He also won three Welsh caps.
6. Bill Roche
One of several Cardiff players to represent Ireland in the 1920s. He was originally from Limerick and also represented Munster and the Lions. A doctor by trade, he played most of his rugby in South Wales for Newport and was regarded as a prize capture when he defected to Cardiff.
8. Douglas Marsden Jones
A player who divided his career between Cardiff and London Welsh, Jones was from a more white collar background than many of his forward colleagues of the era. The 1924 British Lion was later awarded a CBE for his contribution overseeing the country's munitions factories during World war Two and was nominated by Winston Churchill himself.
7. Bill Ould
The Barry based policemen had an impressive try scoring record for a forward and was in fact one of the first players to be described as a "wing forward". He played 86 games for Cardiff and won two Welsh caps. He came agonisingly close to scoring what would have been a match winning try against the NZ Maori with a "rip roaring rush".
Steve Coombs, 25th Jul 2021
Comments
Brilliant.

Jim 'Ocker' Burns was my grandfather. I have his club and Wales cap. Won 2 and should have won more. Never complained about it but others blamed the Llanelli mafia - no change there then !
Ran the Royal Oak on Newport Rd for years and before that The Cambridge in Newtown where he famously entertained the visiting Maoris.
His brother Tom Burns also played for Cardiff in the 20s and his son, also Tom, for Cardiff and the Rags in 40's/50's. Ocker had 3 grandsons. 2 of us played for the Rags in 70s before moving on to play for Welsh Univs and Oxford Univ respectively. The 3rd, Mark McJennett played for the 1st XV regularly, also in 70s before moving to Newport and then going North.
Family is all over the place today but still strong Cardiff supporters through the next generation.
Leave a Comment
Get Involved
If you liked this piece and want to contribute to the independent voice of Cardiff rugby then you can join us here. As a member led organisation we want to hear from you about the issues you want us to raise.