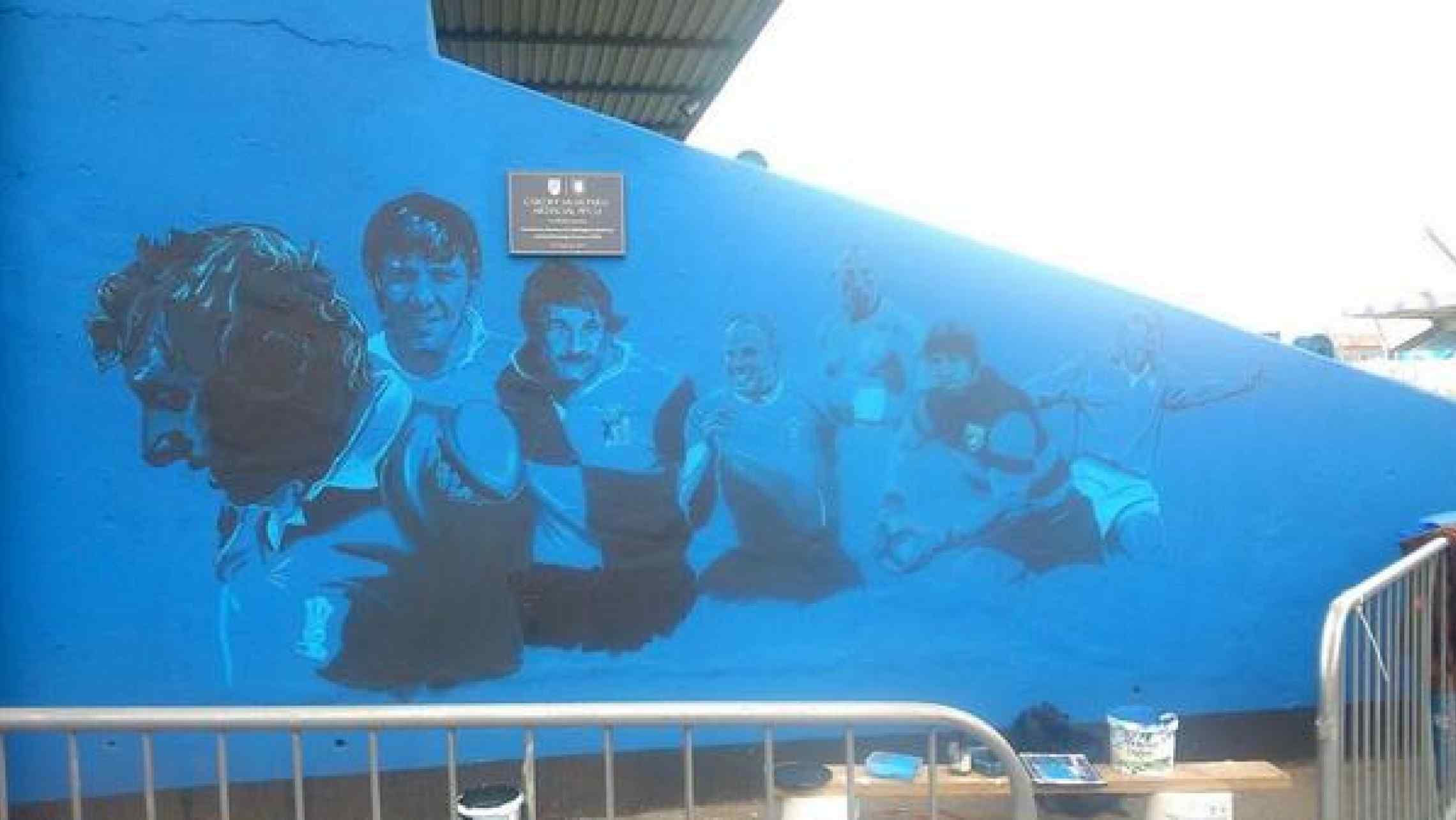 Last week, Cardiff Blues began their Walk of Legends project, to celebrate and honour the rich history of Cardiff rugby.
Many of the names featuring on the lists of nominees will be known to supporters. Some are still playing. Some were still playing quite recently.
But inevitably, the further we go back in time, the memories get more distant. Eventually they only live on in history books, newspaper clippings and old photos.
At CF10, we talk about embracing the past not because we're fascinated by old jerseys and programmes (OK, there's a bit of that…) but because we want the deeds of these great players to live on. These are the men who built a great club. The better we understand them, the better we understand the character of this great club.
So, here's a quick rundown of who everyone on that list was. For some fans, much of this will be familiar. But hopefully this quick summary can still introduce you to great Cardiff names from the past you may be unfamiliar with.
For others, this may be an introduction to one of the most remarkable histories in all of rugby.
Let's begin (almost) at the beginning…
Cardiff rugby is one of the few clubs to have a place in World Rugby's Hall of Fame. This is largely down to Frank Hancock. It used to be that rugby was played with 9 forwards and 6 backs. However, Hancock (a centre) was too good to drop, and so Cardiff introduced the 4 three-quarter system in 1884. It worked. It spread throughout the game and is used to this day.
A few years later, the man known as The Prince of Three-quarters, Gwyn Nicholls arrived on the scene. The Gwyn Nicholls Memorial Gates, still standing at the Arms Park, were erected as a tribute to him. He played 242 times over 18 years and captained his country in a famous win over the "invincible "New Zealand of 1905. Also playing in that game were Percy Bush and Rhys Gabe.
Bush was the superstar of the 1904 Lions tour of Australia. Known for his cheek and daring, Percy was the model for every great Cardiff 10 that followed. Gabe was a wing and centre and prolific try scorer. All three also played when a packed Arms Park saw Cardiff come agonisingly close to also beating the invincible All Blacks. Gabe was among the try scorers when Cardiff hammered the Springboks 17-0 in 1907.
That was one of the great Cardiff rugby eras. As Nicholls and co. moved on, the torch was passed to yet another great Welsh international centre, Billy Spiller, who played 184 games in a career cut short by the start of World War One.
Also beginning his career before that war, but continuing it afterwards, was Clem Lewis, a Welsh international outside half who had a 15-year career with the club with only the war interrupting his ownership of the sacred 10 jersey.
Cornish Close in Grangetown is named for Arthur Cornish and his sporting family, several of whom played for Cardiff. Arthur was the best known, representing the club 267 times and also captaining Wales from the centre. Another star of the 20s at the Arms Park was Thomas "Codger" Johnson, a little winger from the docks who made his debut at 17 and went on to score 129 tries in 187 games.
The next generation of Cardiff players had their careers inevitably overshadowed by the second world war. Scrum-half Maurice Turnbull was one of the greatest of all round sportsmen. The only man to play rugby for Wales and cricket for England. A Major in the Welsh Guards, he died during the Normandy invasion of 1944.
Wilf Wooller was another remarkable all-round sportsman. He played in the 1935 Welsh team that beat New Zealand, and captained Glamorgan cricket club for 14 years. Although he survived the war, his best years were lost to the conflict.
After the war, Cardiff Arms Park had suffered damage from German bombing, and the surviving pre-war players were scattered throughout the world. But soon, arguably the greatest generation of Cardiff rugby (so far) emerged.
Dr Jack Matthews was one half of a legendary centre combination with Bleddyn Williams. Dr Jack played six times for the Lions and worked as their Team Doctor for many years.
Bleddyn is to this day known as The Prince of Centres. He played 283 matches for Cardiff and once scored 41 tries in a single season. He captained both Cardiff and Wales to victory over the 1953 All Blacks. Only Steve Ford has scored more tries for the club.
At outside half in that side was Cliff Morgan, an inaugural inductee into the International rugby hall of fame. The 1955 Lions tour of South Africa is still known as the Cliff Morgan tour. His half-back partner was the dapper Rex Willis. In ten years at Cardiff, Willis played 208 games and represented Wales and the Lions.
Willis had been understudy to Haydn Tanner. Tanner was best known for his time at Swansea before the war and was one of the greatest of Welsh scrum halves. He spent four seasons at Cardiff.
Up front was flanker Sid Judd. A try scorer in the famous 1953 win over New Zealand, Judd played 184 times for Cardiff but died tragically young at the age of 30.
Bleddyn's younger brother Lloyd Williams later established himself as the club's scrum half over 310 matches and like his brother captained both the club and Wales. As the 50s went on, Alun Priday and Howie Norris emerged as the ultimate clubmen. Priday playing 410 times for the club at fullback, it took a broken jaw to stop him adding more appearances. British Lion Norris played mainly at prop but throughout the pack over 413 matches, finally ending his career in 1972.
At the dawn of the 1960s, Wales and Lions second row Keith Rowlands entered the picture. After a fine career on field he went on to a great one off it, eventually becoming head of World Rugby in 1999. He played alongside Maurice Richards , a prolific Wales and Lions winger forever remembered for scoring 4 tries in one game against England.
Alongside him at 10 in that game was the man who in the 1970s would become known as The King. Barry John. Along with Gareth Edwards and Gerald Davies, he needs no introduction.
Try scorer in a famous win over Australia in 1975 (for those who don't know, Australia has never beaten Cardiff at the Arms Park in six attempts) PL Jones was a popular winger over 12 seasons and scoring 122 tries; part of PL's popularity was down to the fact that he was built more like a prop than a three-quarter. The other great winger of this era was John Bevan who found fame with Wales and the Lions and played his part in the legendary Barbarian win over the All Blacks in 1973 before switching to rugby league.
Backbone of the 1970s Cardiff pack was our first player to be capped for England, Bristolian prop Barry Nelmes. Scrummaging behind him was usually Ian Robinson. The definition of a one club man, Robinson only ever played for Cardiff over his 16-year career.
The 1980s was the era of Cardiff's four Schweppes Cup final wins with a win over the 1984 Australia team thrown in. Gareth Davies and Terry Holmes were at the heart of that team and up there with the greatest half-back combinations the club has had.
Up front, the team was led by another England international synonymous with Cardiff, the Number 8 John Scott. In the engine room, Lions second row Bob Norster became indispensable. It was an impregnable Cardiff pack supplemented by the backline talents of centre Alun Donovan, the maverick genius Mark Ring and the remarkable pace and power of Gerald Cordle and Adrian Hadley.
Also coming into the team at this time was the young Mike Rayer. Other than a sojourn with Bedford, the Cardiff fullback shirt was his until the early 2000s. At the tail end of the 80s, Steve Ford was allowed to return from rugby league and became the club's record try scorer, scoring 198 to take Bleddyn Williams's long-standing record of 184.
The introduction of Alec Evans as head coach in the early 90s sparked another golden period. Rayer, Ford and Ring remained from the 90s but up front, Jon Humphreys and Hemi Taylor became the heart of the pack. And the arrival of Olympic hurdler Nigel Walker gave fans a glimpse of a kind of athlete that hadn't been seen before in rugby. The team Evans built brought silverware back to the Arms Park, came agonisingly close to beating South Africa a year before they won the World Cup, and made the first Heineken Cup final.
Later in the 90s, Rob Howley, the finest Welsh scrum half of his era arrived at the Arms Park to play some of his best rugby. Also in the 90s, tight head Dai Young returned to Cardiff from rugby league to once again become a mainstay of the pack before becoming a long serving coach.
For several years, Martyn Williams seemed to be almost playing teams single-handed, and he began a procession of outstanding flankers that has included Sam Warburton and Josh Navidi. Dai Young's Cardiff team, based around outside half Nicky Robinson and superhuman prop Gethin Jenkins, struggled initially. But Kiwi imports like Ben Blair, Xavier Rush and Paul Tito added quality and direction. More local talents like Tom James were uncovered and silverware followed, although the Heineken Cup still proved elusive. This was also the period in which Jonah Lomu made his appearances in Cardiff colours.
In the years that followed, the man nicknamed "King of Tonga", Taufa'ao Filise became beloved at the Arms Park as, like a latter-day Howie Norris, he continued playing well into his late 30s. Alex Cuthbert also continued the tradition of supplying wingers to the British Lions and to this day, Rey Lee-Lo continues the tradition of gifted centres begun by Frank Hancock.
More information on the above players and many others can be found at the http://cardiffrfc.com/player-archive and https://cardiffrugbymuseum.org/
Cast your votes for the Cardiff Walk of Legends here: https://cardiffblues.com/news/walk-of-legends-vote-for-your-favourites
Steve Coombs, 25th Nov 2020
Get Involved
If you liked this piece and want to contribute to the independent voice of Cardiff rugby then you can join us here. As a member led organisation we want to hear from you about the issues you want us to raise.