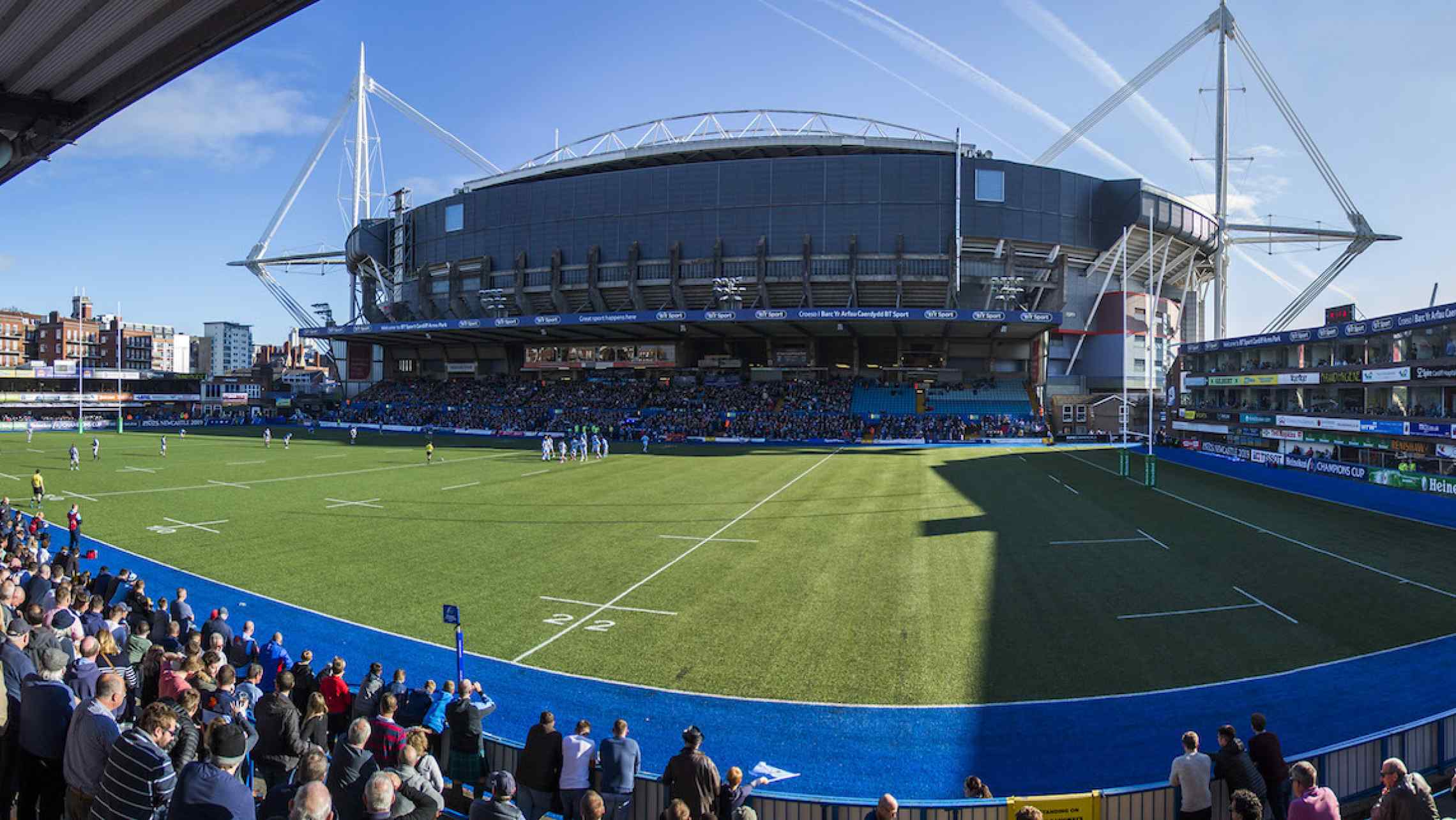 It's possible that there is no club in the sporting world more confusing than Cardiff rugby. For 17 years at the Arms Park we have had Cardiff Blues, Cardiff Athletic Club, Cardiff RFC (owned and run by some combination of the two). All part of the same organisation and yet managing to be completely separate and occasionally at each other's throats. It's easy to lose count of the different supporters groups and agendas being pushed.
It must be exhausting for all concerned. No wonder no one is happy with it.
Recently, Alun Jones of Cardiff Blues and Chris Norman of Cardiff RFC have hinted at revisiting this unusual arrangement and coming together. Becoming one club once again.
Here are some arguments for why this would be a good idea.
The Arms Park
Cardiff rugby's biggest failing, over the 25 years since rugby became professional, has been the failure to fully utilise our location in the city centre. This has been a collective failure on the part of successive Cardiff Blues boards and Cardiff Athletic Club committees. Sometimes the disagreements have been in public, sometimes not. But it is an issue that has bubbled away beneath the surface for many years and has directly and indirectly lead to other problems.
We rightly call the Arms Park a historic ground. And we are united in our deep affection for it. But it could be so much more. It's a site which, if redeveloped, could generate income seven days a week as well as improved facilities for supporters. Many will still feel it an insult that the historic upstairs bar in the clubhouse is still closed to general supporters on match days. But it'll stay that way until an alternative, modern venue for corporate guests can be created at the ground.
But even if there's no immediate redevelopment or rebuilding, Cardiff rugby still needs the assurance offered by a long-term lease agreement. How else can we plan for the future? As Chris Norman pointed out in his recent Rugby Paper interview, "the clock is ticking".
Anecdotally, there are people at Cardiff Athletic Club quite comfortable with seeing the back of "the Blues" and taking over complete control of the Cardiff RFC Premiership team. Cardiff Athletic Club see themselves as inheriting and propagating a tradition at the Arms Park going back to 1876. It's right that they do what they feel is best to keep that tradition alive.
The semi-pro team would stand-alone and no doubt become very successful within the Welsh Premiership under this scenario. But professional, first class rugby at the Arms Park would come to an end. As we've said in private conversations, nobody will thank CAC for saving semi-professional rugby at CAP if the professional side is lost in the process.
It should always be remembered that while Cardiff Rugby Club was formed as an amateur team (those were the rules), it was certainly never formed to be a team of also rans. That merger of Glamorgan FC and the Wanderers in 1876 happened because there was a demand for Cardiff to have a great club to take on the other great town and city clubs being formed across Britain. If Cardiff rugby is not sitting at the top of the table, it isn't really Cardiff rugby club.
However, it seems unlikely that the same people happy to bid farewell to "the Blues" would feel the same about bidding farewell to a professional Cardiff club proud of being unambiguously associated with a legacy stretching back nearly 150 years.
That's the key benefit here. Remaining at the Arms Park. Keeping top-flight rugby at the Arms Park. Finally conquering an issue which has caused endless problems over the years and pushing on into the future.
I suggest that this is a very, very strong justification for becoming one club again. And, it's surely what everyone who works at, plays at or loves the Arms Park wants.
The Cardiff RFC Premiership team
It is often overlooked, or misunderstood, that Cardiff Blues Ltd owns the Cardiff RFC Premiership team. Yes, they can appear to be completely separate parties who at best tolerate each other's presence. But ultimately the budget for both teams comes out of the same bank account.
In recent seasons, the semi pro side has had effective leadership and coaching which has in turn signed some quality players, all as a result of proper funding and support . The Cup was won last year and the team seemed on course for a league title this season if not the double prior to Covid bringing the season to a premature end.
But there could be huge gains made for all concerned if this team became officially "the Rags" and the budget allocated was instead focused on player development. This is what has already been suggested as Cardiff Blues' preferred option. However, this should not simply mean a pure academy team which struggles to compete against the likes of Merthyr. There's little to be gained from getting badly beaten every week.
The model should perhaps be Hartpury College. Hartpury run their own semi-pro club in the RFU championship, playing regular fixtures against the likes of Bedford, Jersey, and from next season, Saracens. Their squad is made up of young players produced from the College's famous development structures but, crucially, with a core of veteran Pros signed to strengthen and mentor the younger players.
That team has helped develop a number of top-flight players (former Cardiff Schools product Louis Rees-Zammit is the latest superstar), but also been hugely successful on the field. Since they were formed, they have improved their league position every single year and made history by being unbeaten over 30 games to win promotion to the RFU Championship. Remarkable achievements.
This could be the perfect example to follow for a reconstituted Cardiff Athletic XV. Note that crowd favourite Dan Fish, currently transitioning into coaching, is already confirmed as a Cardiff RFC player for whenever the new season begins. The perfect player for up and comers to learn from.
This isn't a concept unique to rugby. In netball, the Celtic Dragons have adopted such an approach in order to develop young players for the Welsh national team. Similarly, before money dominated soccer, Liverpool FC used a mix of apprentices and first team squad players who couldn't get a game in their "rags"; they dominated the Northern Premier League in doing so.
As we've said for several years, there is nothing incompatible with capitalising on the club's heritage and continuing to deliver our commitments in terms of the regional player development pathway- something which is already working well and will continue to do so.
Historically academy players have been distributed in an ad hoc fashion, turning out for one club one week and another the next. The needs of different clubs ending up defining where and how a promising youngster is introduced to senior rugby. This can't be right. The academy system will actually be enhanced and improved by a Rags XV designated as the development ground for every talented young player in the area.
CAVC, Coleg y Cymoedd, Glantaf and Whitchurch are all outstanding rugby schools, but each year they face the challenge of retaining and attracting players who are also on the radar of Hartpury, Millfield and every other English school and professional club which looks over the Severn enviously at the outstanding talent we have in our orbit.
Imagine if there were a XV for the best players to emerge from those rugby hothouses to feed straight into? Imagine if when CAVC speak to a quality player tempted by Exeter or Clifton, that they can guarantee that there's a clear path into Cardiff representation, and from there into the senior, professional team?
That's precisely what Hartpury College can offer young players. Little wonder so many are attracted by that opportunity. If we can match its educational opportunities via stronger links with local colleges and universities, a real structure for retaining and developing local talent can be created.
Isn't that better than the current compromise?!
Also consider what this may do for the fixture list. There has been a desire for a long time for Welsh "A" teams to play more fixtures with their equivalents over the bridge. There's already a Celtic Cup A tournament.
Why then couldn't the Rags play in the Welsh league on Saturdays, and their equivalents at Bath United and Gloucester United in midweek? More opportunities for young players. A more varied fixture list. A return to the days of cross border rugby. Aren't these things everyone wants? There seems no practical reason for not doing this.
It's also worth suggesting that a shared branding could also mean increased interest in Welsh Premiership fixtures, with more supporters of pro rugby seeing the Rags as also "their team" and worth watching. More cash through the ticket office. More money behind the bar.
If the two teams finally become one club, there are suddenly numerous possibilities. It's the definition of a win-win scenario
Branding
In this short blog, I've tried to offer simple, practical reasons for Cardiff rugby becoming one club again. I think the motives I've offered are pragmatic, sensible and would be of huge benefit.
However, as soon as Chris Norman's Rugby Paper interview was published, the resulting debate on social media was almost entirely about branding. And Welsh rugby politics.
On the CF10 site, there have been numerous pieces on the potential strength of the Cardiff rugby brand. And, indeed, of the Cardiff capital city brand in general. There's no need to revisit that here. The point has been made many times. If you've got this far, you're likely to be very familiar with those arguments, if not sick of them.
I will only add here that the counter argument – that branding should be "inclusive" and not "disenfranchise" people – has, in my opinion, nothing to do with marketing. It's about politics. Tedious, out of date, Welsh rugby politics.
It is an argument rooted in the chaos of Welsh rugby circa 2003. Should it really be the case that 17 years on, we have to keep revisiting those same arguments rather than put in place what we believe is the best solution?
If an argument is to be made for not taking this step for marketing reasons, or political reasons then fine. People are free to make that argument.
But it will need to be a damn good argument if it's to outweigh the considerable practical benefits of becoming one club and securing a long term future at the Arms Park.
Here's to finally finding some strength in unity.
Steve Coombs, 8th Oct 2020
Get Involved
If you liked this piece and want to contribute to the independent voice of Cardiff rugby then you can join us here. As a member led organisation we want to hear from you about the issues you want us to raise.