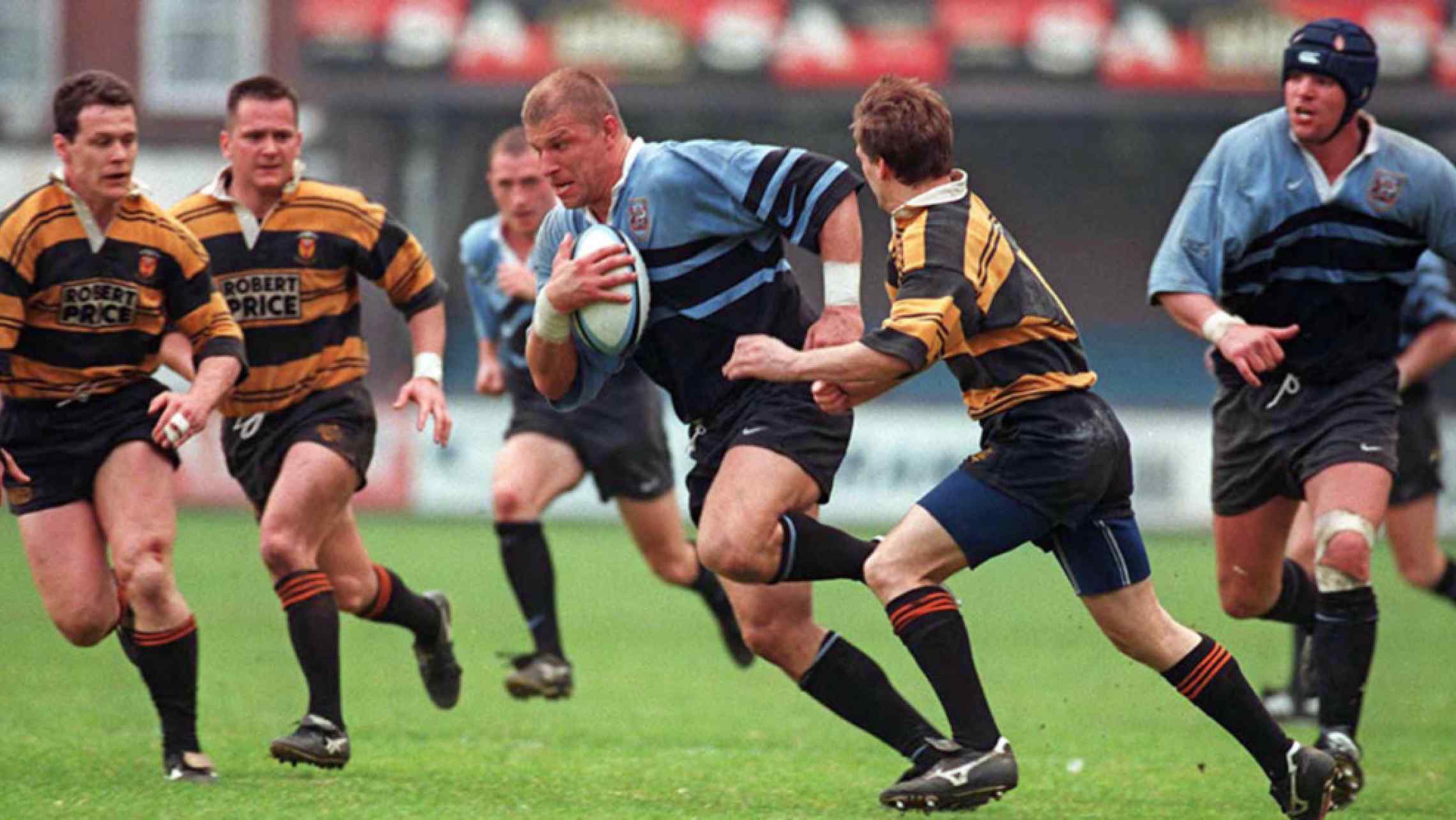 Originally published in the Cardiff Rugby programme 10 December 2022.
Cardiff vs Brive will always be associated with one particular match and one special player: Greg Kacala.
Grzegorz Kacata was born in Gdansk, Poland, in 1966. Gdansk, a seaport on the baltic in some ways not too different from Cardiff, is a city that breeds tough men and Greg Kacala was no different. At 6'3 and with a powerful build he was a natural athlete and also a natural rugby player built to be a backrow forward. He began with his local club Legia Gdansk and rose up the ranks of Polish club rugby before receiving an offer to play in France.
The French leagues of the early 90s were notoriously tough places, but the big man from the Polish docks worked his way up and made it to the top of the French game. He was a member of a formidable pack at Grenoble that was so close to winning the French title in 1993, before a switch to rugby league. At Paris St Germain he played in the very first game of Super League and was the first (and so far last) Pole to score a try in that competition.
With the collapse of Paris St Germain, Kacala made his way back to rugby union with Brive. Brive were going through perhaps the greatest period in their history and this was where he would first become known to Cardiff rugby club.
In January 1997, Cardiff arrived at a snowy Brive to play in the semi finals of that year's Heineken Cup. The Blue and Blacks that day included names like Jonathan Davies, Nigel Walker and Hemi Taylor. The home team could boast French internationals like Christophe La Maison and David Venditti. But the star on the day was undoubtedly Greg Kacala.
Cardiff struggled to cope with the sheer physicality of the big man, with charge after charge causing chaos in the Cardiff backline. Kacala's ball carrying was a revelation and a sneak preview of the kind of power and athleticism players were going to need to adapt to in the professional era.
The Blue and Blacks held firm for most of the match, but after Jon Humphreys was sent off in the second half, they went down to a 26-13 defeat. Brive would go on to win the Heineken Cup that year, beating Leicester in Cardiff. Kacala would be linked with a switch of nationality that would enable him to play for the French national side.
But Greg Kacala's stay in Wales was destined to last a little longer. That summer, alongside several other names who would go on to become favourites at the Arms Park, the Blue and Blacks pulled off a coup and signed the architect of their destruction. Big Greg was now a Cardiff player, along with Tony Rees, the Welsh second row who had also played in that Brive team.
Over the next five years Kacala became beloved by the Arms Park faithful, playing over a hundred matches and coming out of retirement to help the club out toward the end of his career. He then returned home to coach his hometown club and his national side.
Cardiff players have represented 20 different national sides over the years. Greg Kacala, possibly the greatest Polish player to have played the game, can stand proudly against any in that honour roll.
CF10 Rugby Trust, 10th Dec 2022
Get Involved
If you liked this piece and want to contribute to the independent voice of Cardiff rugby then you can join us here. As a member led organisation we want to hear from you about the issues you want us to raise.