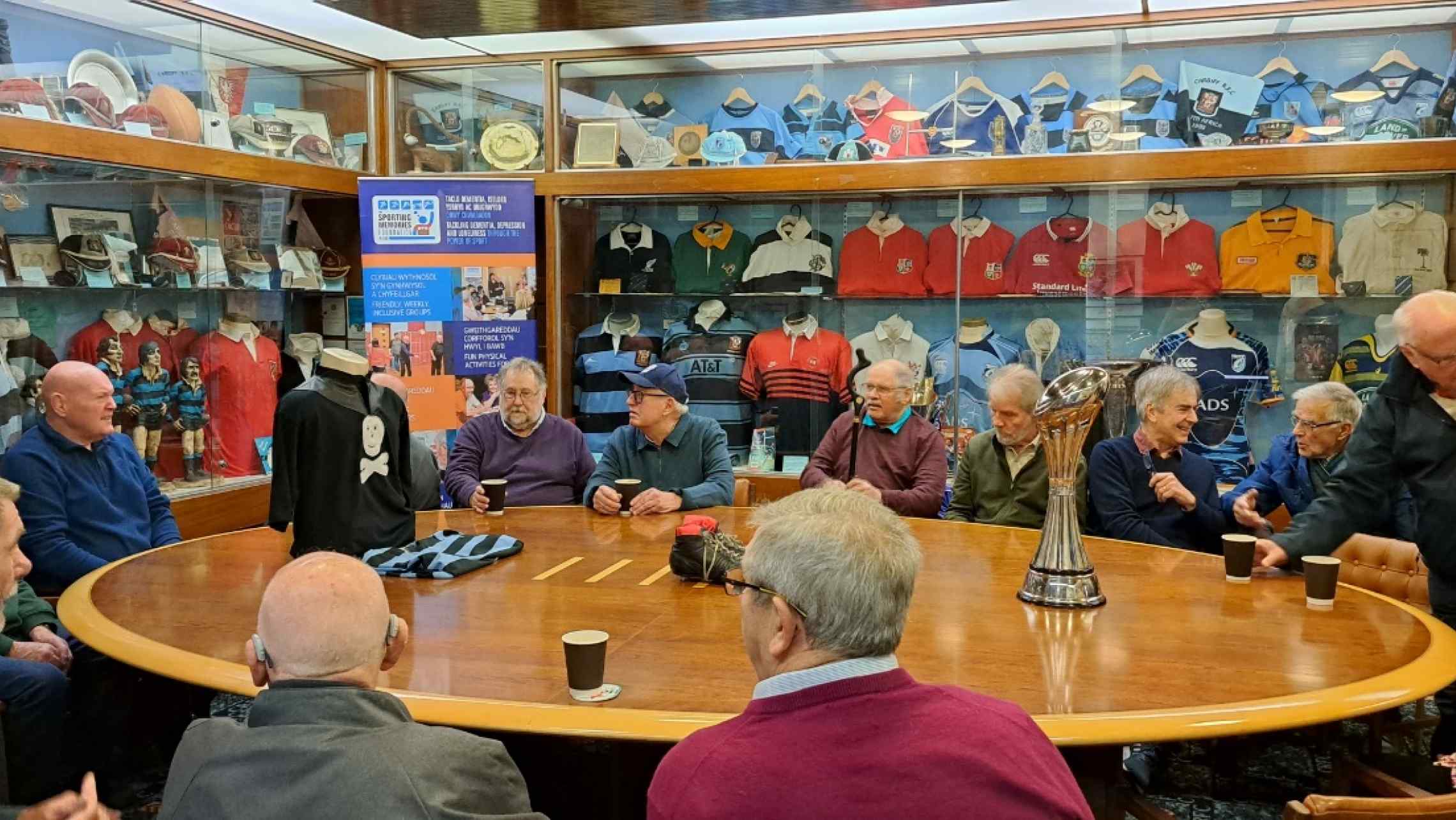 Sporting Memories is a community interest company who tackle dementia, depression and loneliness through the power of sport. This is something that really resonated with both CF10 and Cardiff Rugby Museum, so we jumped at the opportunity to develop a relationship with the Welsh network and have played host to several local hubs in the last few months.
If ever we needed proof of the power of sport to bring people together then these sessions have been a real tonic. We have been able to talk about the history of the club whilst sat in the Hubert Johnson room surrounded by wonderful memorabilia, and we've taken the groups on tours of the ground so they've been able to see the historic player plaques in the changing rooms and experience walking out of the player tunnel onto the pitch. And best of all, we've sat and shared rugby memories and watched videos of old Cardiff matches, everyone cheering as Gerald Davies scored that 4th try against Pontypool as if it was only yesterday!
Sporting memories are some of the strongest triggers of all, and are also a great way to break the ice and get people talking. Social isolation can really increase as people get older and sport has a vital role to play in helping to ease this isolation.
I think covid taught us all a very powerful lesson about how debilitating isolation can be. I remember the joy of the first match back at the Arms Park after lockdown, and the pleasure of seeing so many familiar faces filling the seats around me. So many of us swapped contact details that day because we didn't want to lose touch again.
The Boxing Day and New Year's Day fixtures are particularly important in helping the social isolation that many feel over the Christmas period, and it is so good to be able to welcome back the crowds this year after a long absence. For some this is the only time they see other people over what can be a very lonely period. Sport unifies like nothing else. That feeling of communal joy as everyone surges to their feet as a try is scored, or holds their heads in hand at another knock-on.
Club rugby is under a tremendous amount of pressure at the moment and faces criticism from all sides, but what the WRU really have to remember is that rugby is not just about spreadsheets and success for Team Wales, it's about the communities we form on the terraces, the lifetime of memories we build and share with loved ones.
Perhaps Steve Phillips should come along to one of our Sporting Memories sessions to see what's really important in this frustrating old game of ours.
Sally Carter, 15th Dec 2022
Get Involved
If you liked this piece and want to contribute to the independent voice of Cardiff rugby then you can join us here. As a member led organisation we want to hear from you about the issues you want us to raise.